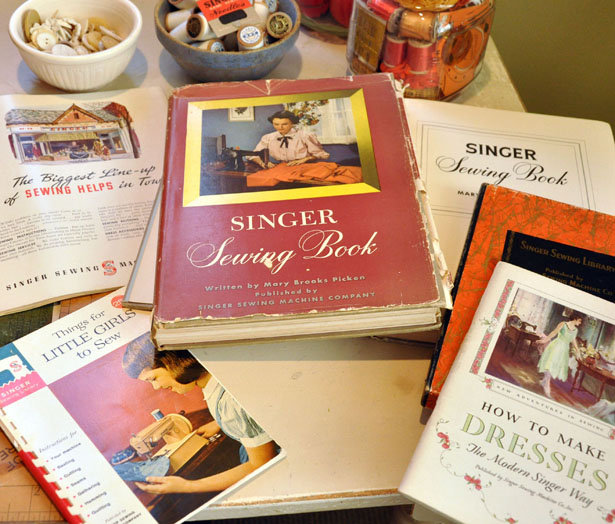 ShareThis
As creator of the Vintage-Inspired Modern Style Design Challenge, Amy Barickman shares the history and inspiration behind this exciting competition, happening right now on BurdaStyle!
Although now almost unknown, Mary Brooks Picken was the American authority on sewing and fashion in her day. As you read in my last blog post, her work in founding the Woman's Institute of Domestic Arts and Sciences has empowered generations of women. Among many achievements, Mary authored hundreds of books and thousands of articles that still inspire decades later.
One of her most successful partnerships involved a company whose namesake remains synonymous with sewing today: SINGER. In kicking off my Vintage-Inspired, Modern Style Challenge with SINGER as a partner, I'd like to take a look back at these two sewing icons that I greatly admire.
In 1949, Mary published the SINGER Sewing Book, which sold more than 8 million copies. This handy guide, containing tips and techniques for sewing machine owners, was translated into eight languages for sale in SINGER Shops around the world. Mary wrote many more publications for SINGER and even prepared a television project for the company.
Historians of SINGER manufacturing agree that the company's success was based on the strategy of developing markets for its products rather than concentrating on product development. SINGER, through two innovations — introduction of a company-controlled sales force and purchase by installments — revolutionized the marketing of sewing machines in the US and abroad. Apple, Inc. came to mind as a modern-day equivalent to the SINGER retail model — a network of stores where products can be demoed and classes are offered to help customers with their new machine. This fun, vintage TV ad that came out in the 1950's, highlights SINGER's personalized customer service.
She also helped promote a contest for SINGER to her students at the Woman's Institute in the 1920s. This ad from that time described SINGER's endeavor to locate the world's oldest sewing machines: "To the Woman's Institute student who has the oldest machine, the SINGER Company will give in even exchange without one cent of cost, free of all obligations whatever, a latest model SINGER machine, electric or treadle.
A follow-up to that announcement congratulated Alleda M. Sharpe, an Institute student from New York, for "bringing to the fore a genuine old-time machine with a life as full of romance and service as the machine is unpretentious in appearance." Alleda gleefully reported that she had made two gingham aprons and a costume slip with her new black-walnut SINGER DeLuxe electric machine.
For 160 years, SINGER has made millions of memories for sewing enthusiasts across the globe. The company welcomes sewers to share their SINGER stories at mySINGERstory.com. I just shared two historic SINGER stories with you, and the winner of our Vintage-Inspired, Modern Style Challenge will have her own special story to share.
We're not seeking the oldest sewing machines, but we are looking for a modern makeover of one of our vintage or vintage-inspired patterns. Two SINGER sewing machines will be awarded, along with thousands of dollars in other prizes. You can watch this video to learn more about the contest, and find out entry details here
For extra sewing inspiration, here's a free downloadable image collection of some fun vintage sewing labels from TheVintageWorkShop. Enjoy!