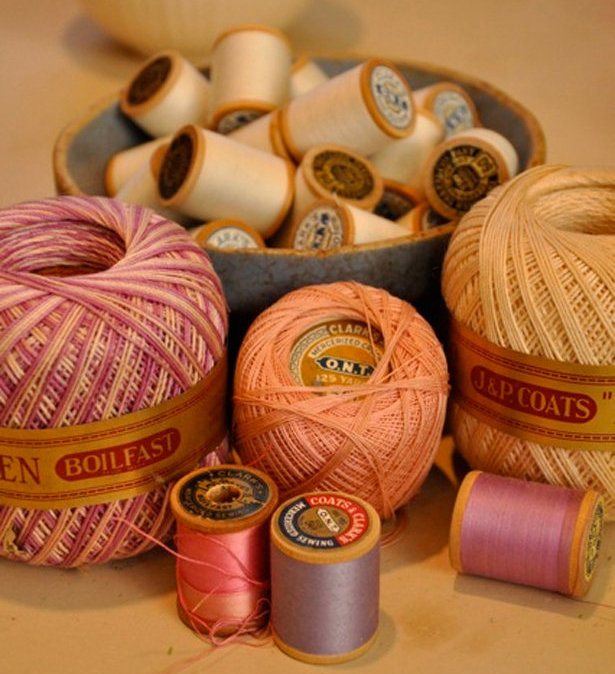 ShareThis
As creator of the Vintage-Inspired Modern Style Design Challenge, Amy Barickman shares the history and inspiration behind this exciting competition, happening right now on BurdaStyle!
"Good threads that are free of knots and imperfections as it is possible to have them are a sewing necessity. They speed work, avoid irritation, and prolong the life of garments. Do not use inferior threads – they are not deserving of your sewing time."
These words emblazon a sewing kit from decades ago. Mary Brooks Picken, an American authority on sewing and fashion in the early 1900s, wrote them as an endorsement for J & P. Coats and Clark's O.N.T. Today, we know it as Coats & Clark, a company still celebrated for its superior spools.
With a 200-year history, Coats & Clark is the common thread that has joined generations of women with a passion for sewing, from Mary's students to the creative community of sewing enthusiasts today. In my previous posts, I shared stories of Mary's profound influence on the sewing and fashion industries. Her stunning list of accomplishments includes authoring hundreds of books and thousands of articles, and founding the Woman's Institute of Domestic Arts and Sciences to encourage women to pursue entrepreneurship. As an advertising executive, Mary wrote books and developed products for Coats & Clark as part of many successful marketing campaigns—including a 16 booklet series on sewing, crocheting, knitting, bias trim, etc. for the Spool Cotton Company (which would later be Coats & Clark).
In one of her books for Coats & Clark, Sewing Secrets, Mary writes, "Women who sew well are the envy of their friends, who always feel that it is a marvelous gift to be able to take fabrics and with the aid of patterns, needles and threads, scissors and sewing machine, to convert these fabrics into beautiful garments."
I'm honored to team up with Coats & Clark, along with Singer and my friends here at BurdaStyle, to present the Vintage-Inspired, Modern Style Challenge, an opportunity for you to use your sewing skills and creativity to design a wearable fashion project. We'll award $3,000 in prizes, including SINGER sewing machines and Coats & Clark thread packs. Plus the winning design will be published internationally as a pattern through my company, Indygo Junction.
For more details on how to enter, click here. To see pattern options, go to my website

A vintage Coats & Clark sewing kit and Mary's words on the inside of the sewing kit.
To learn more about Coats & Clark's 200th anniversary celebration, check out my blog!