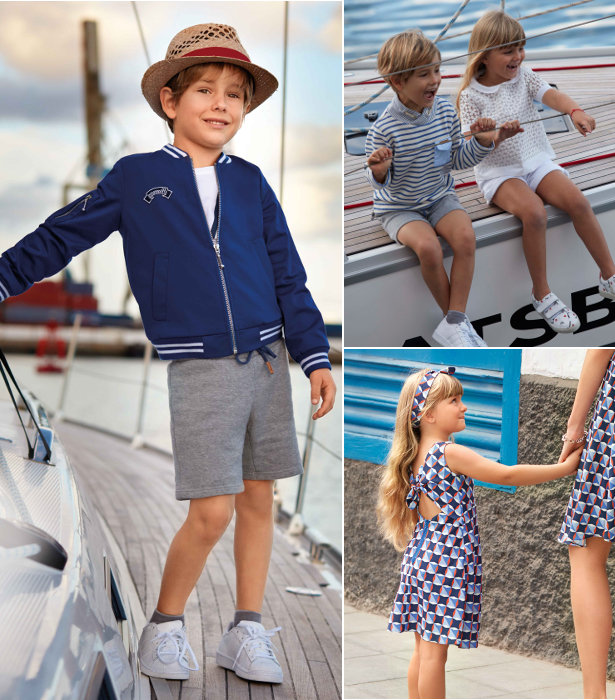 ShareThis
This new collection for kid's from the April 2017 issue of BurdaStyle, which are all perfect for a day out on a boat with the family! Drawstring shorts in two different variations, a lovely dress to match Mom's dress and a little tote bag round out these adorable patterns!
Of course! Everything needed for a day at the beach easily finds room in these striped bags that come in two different sizes.
This classic jacket is one for every kid's wardrobe. This model features smartly striped jersey finishes and a zippered pocket on the sleeve. Boys and girls alike look cool in this style.
Be ready for a day of sailing in style. This blouse is sewn with embroidered organza with a Peter Pan collar as well as hem and sleeve bands in poplin. A batiste lining adds a beautiful finish.
These shorts have the kids ready for sunshine. Not just looking great, either, because casing at the waistline as well as the sweatshirt fabric make them ultra-comfortable and easy to wash.
These grey Bermuda shorts are a relaxed summer favorite that include a contrast color cord at the waistband finished with pieces of leather.
Let's go, mama! A change from the adult version to the mini-me dress, is that the style for kids is tied in back rather than sewn together. The zipper also becomes a beautiful detail as it is sewn exposed in the child's style.
Ahoy, Captain! The overlap at the collar neckline and the patch pocket have a nautical touch of a natural color cord threaded through the shirt.
Sew all these little sewing pattern styles for the summer with the discounted pattern bundle here!