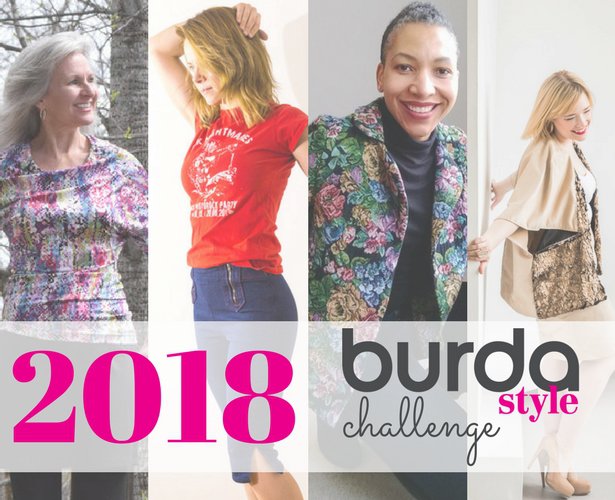 ShareThis
I can't believe it is April already! March was a super busy month for me travelling and sewing up a storm – but I still managed to get some sewing done and so did our amazing #burdachallenge2018 community. I have some big plans for April and eager to get started on my projects. Read on to see what our members made in March and my April plans…
Also make sure to check out Hila's March round up post over at Saturday Night Stitch where she highlights even more makes from last month. Hila herself sewed up some fabulous BurdaStyle garments in March as seen in her TRIPLE Burda outfit of the day pictured below.

You can see her project here for the floral jacket! This time of year it seems ALL I want to sew is floral, but I'm saving it for the summertime so I don't get tired of it – and I need to go fabric shopping. And speaking of floral makes, check out some of the amazing projects below our BurdaStyle members posted for their #burdachallenge2018…



Left: Member lisascarolina made a twisty top which she paired with a mini skirt. See the project here
Right: SeamRacer sewed up a Burda blouse and utilized lovely contrast piping! See the project here



Certified BurdaStyle Teacher and recent featured member Mihaela78 made these two patterns – including jeans! The zippers are so on point and work very well in denim. She also made a floral dress using the dress pattern I planned to sew up last month.



I had some change of plans for I wanted to sew in March for my #burdachallenge2018, in our February round up post I planned to make our swing gathered dress but the fabric I ordered to make it JUST came in a couple days ago and I didn't have time to sew and photograph :( That dress I meant to be my Mash Up, but since I didn't have the fabric I decided to sew the open cardigan and skirt in matching fabrics!
BUT… I did make some other goodies! On the left is my March Mash Up which I mentioned above, and I love how it turned out. Very unique – but chic. Then in the middle is a sample of the dress I made for our next FREE sew-along (scroll to find out more), and lastly I whipped up a furry metallic skirt which you can see more about here



So now back to the dress. I sewed up about 3 of these dresses since I filmed how to make one for our next FREE sew-along that we are offering on BurdaStyle Academy. Our last one was the Biker Jacket but I think I'm even more excited about this dress. Always check back here for the registration announcement later in April to join for free. The pattern is our Detail Dress and there is also a plus size dress option that you'll learn how to sew.



I LOVE going to film, and the detail dress sew-along was a blast to develop and capture on camera. There was a lot of coral thread happening in my studio over March!



So as I mentioned above, and in my March plans post, I planned to make this dress – and I still plan on doing so! My fabric just came in and I'm going to sew it up this week. For the fabric I ordered Spoonflower's Poly Crepe de Chine in our signature BurdaStyle prints. I'm going to sew the body in the Geo White on Black print and the sleeves and tie band in our Feathers on White print.
These signature prints were developed as part of our exciting collaboration with Sprout Patterns.



Now onto April plans! I want to do A LOT of sewing in April. I have no plans to travel for work, so it is just me and my sewing machine. I guess I'll say "plans" just in case anything comes up and it is OK for plans to change and adapt – just think if I ordered my printed fabric earlier I would have ended up with my fabulous faux fur & suede Mash Up outfit.
First up I want to sew our Ruffled Collar Dress from the 04/2018 issue as my April Mash Up. My color scheme for this dress is mint, gold, and white – I'm super excited about this one! I have two summer weddings to attend this year, and I think this style will be perfect for a bridal shower.
Next I want to take it back – I want to sew a matchy-matchy look using our Pleated Culottes & Triangle Back Top patterns from the 04/2016 issue. Then lastly I just couldn't resist this Peek-a-Boo Back Top pattern from the current April 2018 issue.



I used our free planner to plan out my matchy-matchy look, and I want to sew it up in a navy/gold platted double gauze for an easy breezy spring look.



Hila wants to sew up our Trench Dress from the 04/2018 issue as well as a little girl's nightgown pattern. This dress is awesome, and I do plan to sew it for myself in the future. I see a printed cheetah twill! Can't wait to see how Hila makes it.


So I better stop typing and start sewing, because I have some serious sewing plans this month. And make sure to check back often and on our social media accounts to hear when we announce our FREE Dress for Success Sew-Along in April! And keep using the #burdachallenge2018 on instagram and in our projects section so we can find and feature your projects.
Happy Sewing!