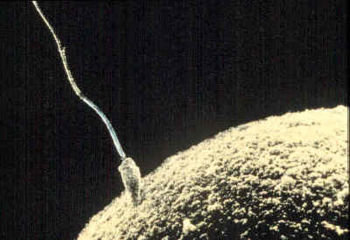 ShareThis
MAN

&

LIFE

Boy. Boy, boy, boy. I guess it's true, what they say about spring, all that stuff about life renewing itself as the season turns over. I woke up a week ago to discover a pigeon nesting on the ledge outside my bathroom; when I opened the window to let in the fine, warm morning, she flew away, revealing two speckled eggs. She's back now. Normally, I hate pigeons, and normally, when nature sneaks up on me in New York, I call the exterminator. I have a particular phobia about mice. But here I am, two or three times a day, peering at my pigeon sideways through the windowpane so she doesn't catch my shadow and fly off. I don't want to scare her. I feel like we're in on this springtime together, both of us guarding something precious and potential, she her eggs and me my boy.

Which is to say, I am careful of the pigeon because I don't exactly believe she is real. I believe she is a metaphor. It happens sometimes, life unreeling like a line of poetry. Daylight savings time, the bird alights, a new season has broken. These events are mundane, but after a hard winter, they have special significance to me. It's the eggs that really get me though, the way they look so vulnerable when the pigeon leaves them. It seems as though a blast of wind could carry them right off the ledge. I am looking forward to the birds.

The boy, too. He's still only on the horizon, and like the pigeon on the ledge, he was something I just woke up to one day, a scrambled kind of feeling, as through someone had snuck into my heart and rearranged the furniture. I guess he did. We've known each for a while, and it's an abnormal situation for me, this totally normal thing of growing into a passion; my romantic history is one of sudden intensities and great leaps into the unknown. Also: I am falling for him for all the right, but for me, unusual reasons. Namely, he is a good person. I don't mean that he's a "nice" person. I mean that he is good. Grounded, thoughtful, tender, ethically sound. The problem, I fear, is that I am not so good. High-strung, self-absorbed and cynical, I fall easily into panics and depressions, and though I have my better qualities, the very, very worst of them is that I am shallow. The boy is good, but the boy is also tall, and sapling slender, and quietly handsome, and pedigreed in various ways that shouldn't matter, but do, and as I go to bed each night with his name on my brain, I know it's only partly his goodness singing me to sleep. I worry about breaking him. The whole thing feels fragile.

So I am trying to be good. Unfortunately, the best way to be good under the circumstances is to be patient, to let my mind drift off elsewhere as nature takes its course. Another tick in the cons column: I am notoriously impatient. About everything. But I'm trying: Watch the pigeon, enjoy the weather, go to yoga and don't make too much of it when the instructor tells me to open my heart, because all she's really telling me to do is breathe my shoulders back into the pose. Not everything is a metaphor. But it feels that way, and so at this point I've given up the whole mind-drift exercise and am now actively looking for ways to distract myself. I wrote a brand new screenplay, I went to LA, I took a bunch of thrift-shop clothes to the tailor to be mended. Now the bird has got me thinking about life. Life itself. Creation, and adjacently, the end of life as we know it. This is something I do enjoy contemplating. (Does that go into the pros column or the cons column?) I got onto this latest apocalyptic kick courtesy of the report that a huge asteroid might collide with Earth in 2036. That seems like a long time from now, but then I read this op-ed in The New York Times noting the potential civilization-destroying capacity of even a small meteor, and now I'm watching the night sky very, very warily.

Of course, if you read the top-ten lists of ways the world might end, an astral strike is down there, a lot less likely than nuclear war, and a little more likely than revolution by evil robots. (Robots: More plausible than you'd think.) These lists exist. I've read them. Some are spurious, and some come courtesy of eminent scientific think tanks, but each and every list agrees on one thing: Global warming. That's how we're going out, friends. Kind of boring, right? I think about end times coming courtesy of climate change, and I hear that T.S. Eliot line about the world ending not with a bang but a whimper. So much more exciting to imagine an accident at a supercollider, the entire universe instantly suctioned into a reverse big-bang. The major plus to that scenario is that there's absolutely nothing you can do about it.

Whereas, as well all know, global warming is our fight to win or lose. Recycle, drive a hybrid car, make sure you don't leave your cellphone charger plugged into the socket. How blah. And how pointless it all seems: I'm replacing all my lightbulbs with those twisty halogen ones, and meanwhile, millions of new cars are going on the road in China and coal companies in Appalachia are chopping the tops off mountains? It seems like the only way to turn back the climate clock would be for me, and everyone else, and I do mean everyone, to go on a major carbon fast, shutting off the great electric grid and just camping out for a while, like Huns. But that's not going to happen, and even when I consider the more practical option – jigsawing together some combination of political action, small-bore lifestyle adjustments and smart investment – I still don't feel optimistc.

And yet: The birds, and the boy. I want to be hopeful. I bought a TerraPass the other day, one of those deals where you pay against your carbon impact, and they cover landfills, or plant trees. I'm unplugging my printer at night, taking shorter showers and air-drying my hair curly. I haven't bought a composter yet, and let's be frank, I probably won't. I'm no paragon of green virtue. But spring is in the air, the eggs are in the nest, and I said, I am trying to be good.

This week, BurdaStyle takes on life, love and mankind.