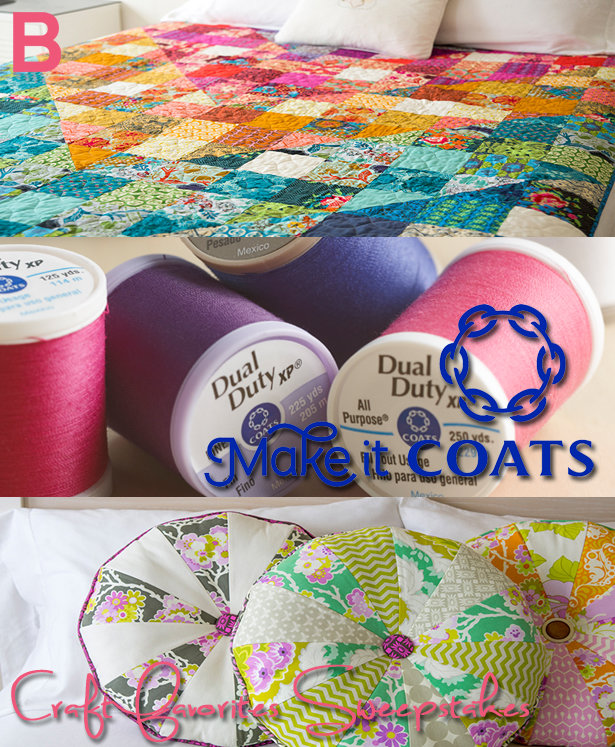 ShareThis
Learn more about new craft retailer MakeItCoats.com with 4 weeks of giveaways. It's the MakeItCoats.com Craft Favorites Sweepstakes! Update: Congratulations to winners Emily Agnew, Pat Dunn, Smitha Narayanaswamy, and Michelle Newton! MakeItCoats will contact you shortly.
MakeItCoats.com is an online destination for hobbyists and professionals of every persuasion, from quilters to dressmakers! Now you can find all your favorite knitting needles, fat quarter bundles, and threads in one place. Browse through sewing supplies, knitting notions, and all the latest quilting trends. You might just find a new favorite craft!
Enter now, and get to know MakeItCoats.com with 4 fun giveaways. We're giving away one of our favorite products every week! These prizes are just a sampling of all the craft notions, sewing supplies, and creative tools you can find at MakeItCoats. Take a look at the latest trends, and enter to win all four! You must enter each entry period separately to be eligible for that prize.
Week 1, 3/15-3/21: 18pc Coats Dual Duty XP All Purpose Thread Assortment
A medium weight thread that's ideal for most hand and machine sewing. Coats Dual Duty XP combines advanced technology with nearly 200 years of thread-making experience. Innovative manufacturing processes are applied to a polyester-wrapped, core-spun construction. The end result is a thread that provides enhanced seam appearance and makes sewing more of a pleasure.
Week 2, 3/22-3/28: Fat Quarters from FreeSpirit Fabrics
FreeSpirit Lifestyle Fabrics speaks creativity and playful fun for fashions, home décor, quilting, crafting and more. FreeSpirit brings together a global portfolio of over 25 designers – including Anna Maria Horner, Valori Wells, and Joel Dewberry. The fabrics are as diverse and expressive as the artists themselves – perfect for the modern, trend-conscious crafter, sewist or quilter. Turn this adorable bundle into a quilt, or have fun with the cute (and free!) Stuffed Mouse or Stuffed Deer, or Rag Doll softies.
Week 3, 3/29-4/04: Assortment of Phoomph
Phoomph is a double sided, fabric bonding sheet that creates a brand new way to craft with fabric. It has an adhesive front and back and it adds thickness and structure to fabrics. Phoomph is available in 8 colors and two versatile textures. There is no ironing required, making fabric fun for all ages!
Week 4, 4/05-4/15: Susan Bates Tipping Points™ Knitting Needles
Ready to learn to knit? Susan Bates offers an extensive range of knitting needles, crochet hooks, innovative tools and handy accessories. Start with Tipping Points needles and a simple free pattern, like the Knit Tank Top or Knit Star Hat. Discover our extensive range – from knitting needles and crochet hooks to innovative tools and handy accessories.
Good luck!
The MakeItCoats.com Craft Favorites Sweepstakes is open to U.S. residents only.
Winners:
Thread Assortment: Emily Agnew
Fat Quarter Bundle: Pat Dunn
Phoomph Pack: Smitha Narayanaswamy
Susan Bates Needles: Michelle Newton