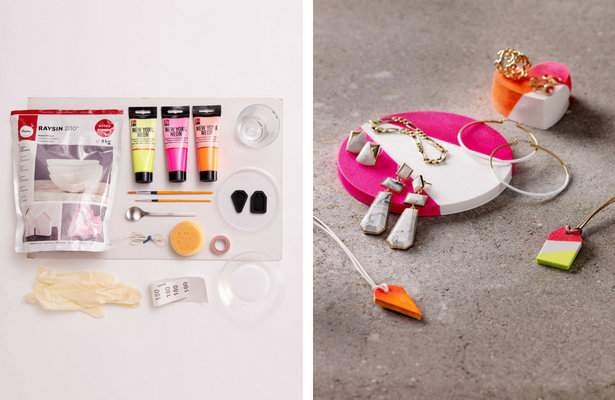 ShareThis
Bright examples for great design – these pieces of jewelry and jewelry holding plate are made of resin and decorated with fluorescent daylight colors. Here we show you how easy it is to make these pieces…

+ Resin-casting powder (Rayher)
+ Resin form / mold
+ Neon Fluorescent black light color paint
+ Tape
+ Brush
+ Sponge
+ Sand paper
+ Cup
+ Plate
+ Spoon
+ Gloves
+ Chain



Step 1: Mix resin powder with water in a ratio of 3: 1.
Step 2: Mix well!



Step 3: Then pour the resin into the molds and let it dry.
Step 4: After about 30 minutes, the resin can be released from the mold. Let it harden afterwards.



Step 5: Use the sand paper to smooth out any protruding edges and sharp edges.
Step 6: Using the tape, lay down desired pattern.



Step 7: Finally, dab the paint on with the sponge or apply with a brush and let it dry well.
Step 8: For the chains, pull the appropriate chain length through the shape holes and wear!



Get creative and get a bunch of different mold and neon paint colors to make these bright pieces for yourself and all your friends!
These necklaces go perfect with just as bright jumpsuits like the ones below. These can all be found in our Jumpsuit kit here.



Happy jewelry making!