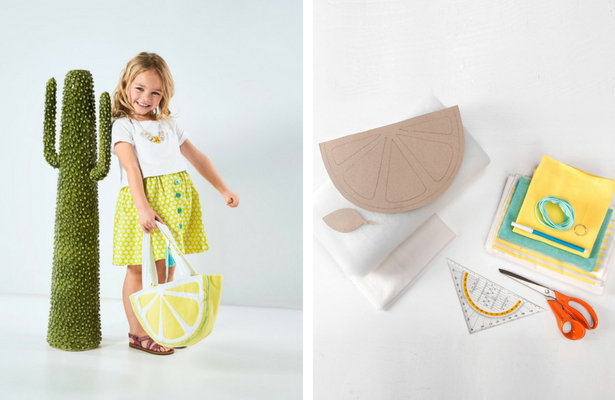 ShareThis
Citrus bags are all the rage this season – and even for little ones! Our featured Monday collection Tutti Frutti showcased several adorable girl's patterns, and what better bag to make to compliment those styles. Read to see how easy it is to make one yourself…

Shop all the girl's patterns in this collection here!



+ Pattern (leaf in original size, the other pieces enlarge to 200 % with a copy machine)
+ White & striped cotton
+ Jersey in yellow/mint
+ Piping in mint
+ Batting
+ Scissors
+ Vanishing marker
+ Ruler



Step 1: Trace the pattern pieces/templates onto the fabric pieces and cut. Sew the batting onto the outside fabrics and arrange the citrus segments onto the outside fabric. Topstitch in place.
Step 2: Pin the piping along the outer edge matching the raw edges and use the appropriate sewing machine foot to stitch it in place.



Step 3: Secure the batting to the middle unit. Use the stitching line of the piping to secure the piping between the outside panel and the middle unit.
Step 4: Sew the lining pieces (striped fabric) together (outer and middle units, right sides together) being sure to leave a small opening for turning.



Step 5: Straps: cut 2 fabric strips apx. 7x 8 cm (2¾ x 19 in.). Fold strips in half lengthwise, right sides facing. Sew 1 cm (3/8 in.) from edge. Turn. Stitch machine foot width along both long sides.
Step 6: Pin the straps in place along the outer edge of the outside fabric pieces. Pin the lining and the outside fabrics together, right sides facing and stitch together.



Step 7: Turn the bag right side out through the opening in the lining. Sew the small opening of the lining closed. Topstitch the upper edge a sewing foot width along the outside edge.
Step 8: For the tag, sew the leaf along the marked lines with wrong fabric sides together.



Step 9: Cut away the excess fabric and attach the leaf to a key ring and to the bag strap.