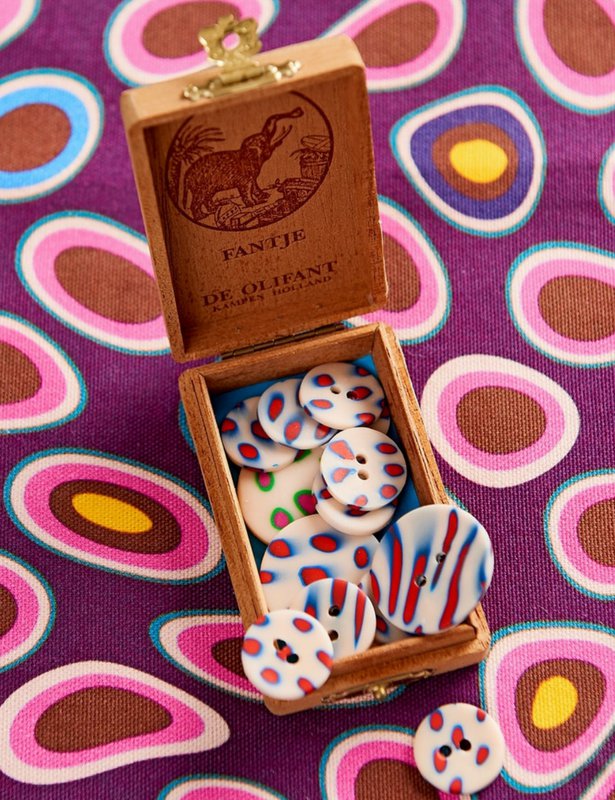 ShareThis
This autumn, animal prints are more popular than ever – as well as stylish and elegant. Make your own buttons with colorful leopard spots and tiger stripes to easily turn white or black blouses, dresses or children's clothing into cool "it" garments. A little patience is required but you can give your creativity free rein – just think of all the bright color combinations which are possible! 0

Here is what you'll need for the cheetah print buttons:
+ Soft modelling clay in red, blue, and white
+ Fimo "Clay machine" hand crank roller – or a pasta maker!
+ Straight blade
+ Awl



Knead white clay until soft and form a thick circle (Ø 6 cm/23/8", 3 cm/1¼" thick). With awl, poke as many holes as desired.



Form a red roll (approx. 0.5 cm/ 3/16" in diameter) and wrap with a thin layer of blue clay.



Cut in lengths to match the thickness of the white circle. Insert in holes in the white circle.



Press the circle firmly together and roll evenly.



With the straight blade, cut the desired number of circles, each approx. 0.4 cm/ a scant 3/16" thick.



Run each circle through the "Clay machine" (widest setting, #1).



Punch out buttons of the desired size, with a hollow punch. Poke holes in each button, with the awl. Harden buttons in oven.



FINISHED!



Now if you want your buttons a little more stripey like zebras, follow these next steps…



Knead each color clay individually and pull it through the roller.



Place the rolled sheets on top of each other and press. Then split in half with the cutter.



Now place both parts on top of each other and press firmly.



Repeat the process until it reaches a height of approx. 4-5 cm.



Press the strip block onto a non-slip surface and cut it diagonally through the block with the serrated blade.



Pull the ribbed discs (about 0.4 cm thick) through the roller one at a time (widest machine setting).



Cut out buttons with punch as desired, and pierce two buttonholes with the awl. Bake according to instructions.



And done! Try spicing up your next blouse project with custom buttons like these, and use the following blouse sewing patterns…



Flounce Blouse; Button Up Plus Size Blouse; Boxy Blbouse.
Happy Button Making!