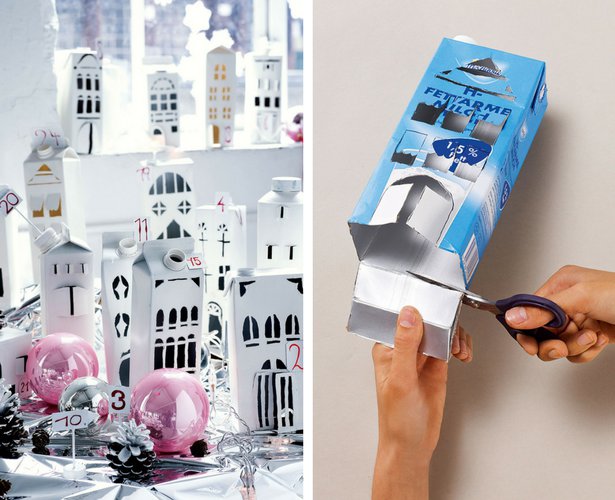 ShareThis
Are you looking for that special something? Here we show how this beautiful Christmas city can be made from old milk cartons. This can be used both as a Christmas decoration with cones, cotton balls and Christmas baubles, as well as hide small gifts for the loved ones.

Materials:
+ 24 Milk cartons (rinsed out)
+ 2 Waterproof pens (black & red)
+ box cutter
+ scissors
+ cardboard
+ Foil to underlay
+ White spray paint
+ Disposable gloves
+ Glue
+ Light string



STEP 1:
Use the waterproof pen to draw the facade of a house (windows, doors, etc.).



STEP 2:
Cut out windows and doors.



STEP 3:
Tip: The scissors are better for rounding, for straight lines, corners and edges we use the cutter.



STEP 4:
Cut away the ground/bottom.



STEP 5:
Cut out a small hole on the back. Here, the lights are pulled through later.



STEP 6:
Lay the little "house" on the foil and spray it several times in thin layers with paint.



STEP 7:
Spray cardboard white, cut out little tags and write the date of the Advent calendar with red.



FINISHED!
Decorate with more lights, greenery, balls, and pin cones. Also fill each house with little treats to unveil everyday leading up to Christmas!



Here an advent calendar is made from origami! Click here to see how to make!