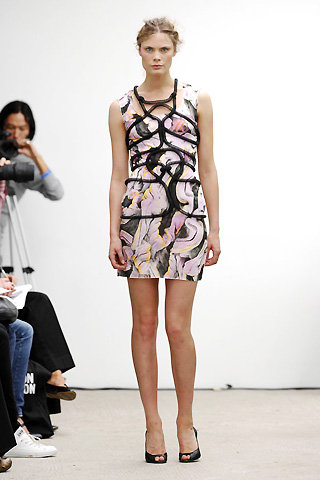 ShareThis
LONDON: WRITTEN ON THE BODY
Granted, the preferable thing is to be a big fish in a big pond. London Fashion Week, however, is making an ever-stronger argument for the next-best option. Emerging, independent designers are getting ever-shorter shrift in New York, never less so than this season, which saw a week of shows at once so rushed and so over-scheduled that even Marc Jacobs was threatening to decamp for Blighty. The small pond atmosphere in London, in contrast, helped to shine a spotlight on the several big fish swimming these formerly inhospitable waters.
Enough of a bad metaphor; on to fashion. The point is, London has plenty of it right now. New York had many good ideas; maybe too many. The refreshing thing about London was that numerous designers all seemed to coalesce around one big idea – the body, miraculous and dynamic – but each found an idiosyncratic way of developing the theme. Gone, for the most part, the retro sexyback styles – Leger banding, Versace vamp – that have characterized recent collections by the London stars. In those references' place, a new idiom has emerged, an intellectual and architectural take on body-conscious dressing, expressed most poetically by Marios Schwab.
Schwab literalized an obsession with the body he's played out over several seasons, which saw him working out a patternmaking debt to Alaia in the neutral palette of Armani. This season, he stepped away from curve-hugging seams in favor of a looser silhouette, and did a complete 180 when it came to color and print. The first dress down the runway featured a bright digital image of body heat so photorealistic that it seemed to adapt itself in time with the model's catwalk sashay, and its long sleeves were made in a swirling pastel print you'd never guess was inspired by the mysterious layers of tissue inside us. The best exits in Schwab's collection paired that print with black roping and corsets redolent of viscera and bone. You didn't need to get the reference to take the subliminal charge. Truly, the collection was a breakthrough. The Jonathan Saunders, Sinha-Stanic and Richard Nicoll shows packed almost as much of a wallop, working the body theme in their own distinctive ways, and meanwhile this season, the buzzed-about Christopher Kane and Henry Holland lit out for new and interesting territory of dress, Erdem sent out an intelligently commercial collection that could give Philip Lim a run for his money, and newcomers Louise Goldin and Clare Tough emerged on the scene with a bang. Maybe London isn't such a small pond, after all.