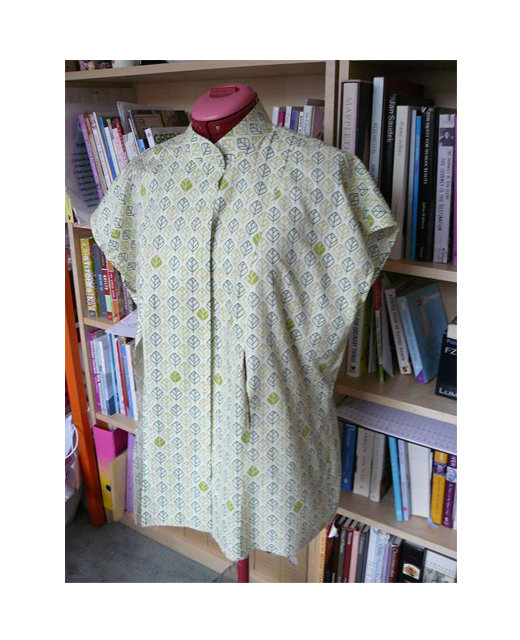 ShareThis
It seems that I had cut out the correct size for my Liz blouse all along, what wasn't right was that my printer's settings had been changed somehow and was printing the pattern out larger than it should have been hence the very large muslin I had to show you last week. So this week I started out by altering my muslin to a more suitable size and marking any changes I needed to make straight onto the fabric. I've lengthened the blouse slightly so it will cover my bump and I also marked just under the bust on either side where I intend to start the inverted pleats in the princess seam. I printed out the pattern again and cut it out in the correct size then I went ahead and used my intended fabric. My blouse is now sewn together and all that is needed now are the inverted pleats. I'm wondering how wide to make them, maybe about 8-10cm? I've also realized that I should have cut the pleat extensions as part of the front pattern piece but it's a little too late for that now. I'm thinking a contrasting fabric would look nice inside the pleats, maybe a white or green to match the colours of the fabric pattern. Once the pleats are in I'll hem the blouse and I'm done, except for a ribbon or band to tie around under the bust. What do you think would be best, some matching ribbon or a band made with the same fabric inside the pleats which I would attach to the side seams and tie at the front? I'm leaning towards the matching bands I think.
I've spotted a finished Lydia creation here on the site already, altered to have long sleeves and a sash around the waist. Very cute! For my version of Lydia I was going to start with the basic pattern and add a little extra in the front for my bump but I've been inspired and think I may try making it into the v-neck dress instead. I need airy clothing and by making the dress rather than the top I won't need to wear trousers. I have some red jersey that has been sitting in my stash for far too long which would be perfect for this pattern. I'll probably lengthen it to just below the knee and add the extra in the front for my bump. I'm also going to give the dress short sleeves since it's so hot here at the moment, I've been sweltering this past few days in our 38 degree summer heat, I've even taken to switching on the air conditioning and I rarely do that! Being pregnant in the heat isn't much fun, I feel slow and sluggish and all I want to do is lay around like a beached whale (I feel like one!). I did treat my aching feet to a pedicure today though, much deserved I think!
As always, please leave your comments and suggestions below, I really do love reading them and having you involved with what I make.