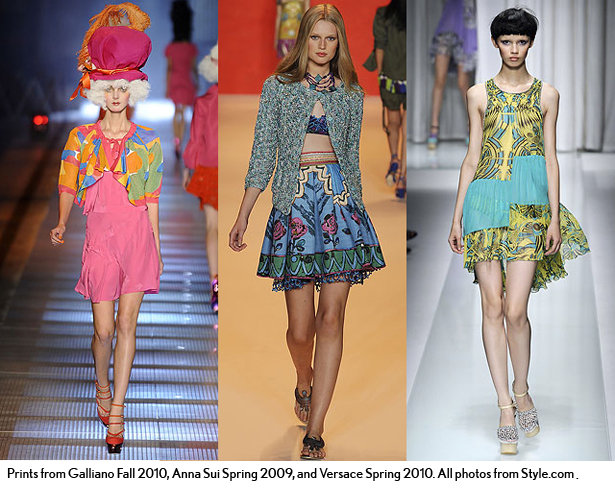 ShareThis
Last month I wrote about some of my favorite fabrics for sewing. But, as you know, selecting a fabric is just the first choice you need to make when you're planning a project.
Since our Oliver + S sewing patterns are sold primarily in independent quilting shops, we design most of our patterns for quilting cotton. And since most quilting cottons are printed, selecting a print is something most of our customers do.
Over the years, I've fielded numerous questions from customers about how to select an appropriate print for sewing children's clothing. In response, I wrote a series of posts on the Oliver + S blog laying out the principles I use for selecting fabrics. The series focused, specifically, on children's clothing, but some of the principles are just as appropriate for sewing adult garments from printed fabric.
1: Use Solids and Neutrals to Ground a Busy Print. If you choose a bright, busy print, consider grounding it with coordinating solids or neutrals somewhere else in the ensemble. A busy print used for a top, for example, can be toned down by a solid skirt. By selecting a solid color as a ground (it's a good idea to stay in the same color palette or to pick something that complements the print), your finished garments will look beautifully coordinated without being too busy or overwhelming.
2: Be Eclectic and Mix Prints. Many of us were taught to wear just one print at a time, but that principle no longer applies in the ever-changing rules of fashion. Mixing prints can be fun! Here are three hints to consider when you mix prints:
• Stay within a color palette. It's easier on the eye.
• Select prints with different scales. A large print and a small print work better than two prints of the same size.
• Look for updated versions of traditional prints. Stripes and polka dots, for example, are visually appealing and are also easy to mix with other patterns.
What principles do you follow when selecting printed fabrics for a new project?
Liesl Gibson designs the popular Oliver + S line of sewing patterns for children's clothing. Her new fabric line, City Weekend, will be available at independent fabric stores worldwide in September. Read more of her writing on the Oliver + S blog.