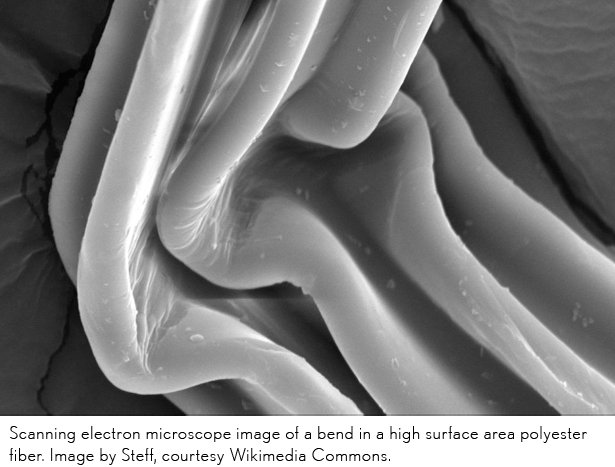 ShareThis
All manufactured fibers are made in the same way. As I mentioned in my last post about cellulosic manufactured fibers, a chemical liquid is forced through small holes, called spinnerets, to form filaments in much the same way that a silkworm spins its cocoon.
While the cellulosic fibers I discussed are derived from plants, most common synthetic fibers are petroleum-based. With these fibers, the shape of the spinnerets and how the filaments are processed affect the finished fabric enormously. Here are some of the most common petroleum-based fibers:
Acrylic is lightweight, soft, and warm, with a wool-like feel. It takes dyes beautifully and has excellent colorfastness. It resists shrinking and wrinkles. Those pashmina wraps that New York sidewalk vendors sell in every color of the spectrum are actually made of acrylic because it can be finished to have a similar feel to cashmere. (Yes, I know the labels say they're made of pashmina or cashmere, but you don't really believe that you can buy a large pashmina wrap for under $10, do you?) Unlike cashmere, however, acrylic tends to fuzz or pill easily, and it isn't nearly as warm. It also builds up static and can irritate the skin of people who suffer from eczema.
Polyester has a bad reputation, but as a fiber it possesses some valuable qualities. It is strong and resistant to stretching and shrinking. It dries quickly, and it's crisp and resilient when both dry and wet. It's also wrinkle and abrasion resistant, and it retains heat-set pleats and creases well. It's easy to wash, but it's difficult to remove stains from polyester because it repels water so well. It's also prone to static and pilling. Although it's the most commonly used manufactured fiber in apparel, it's also one of the least environmentally friendly fabrics to produce.
Nylon is the second most widely used manufactured fiber in the US. The polymers used to make it provide it with strength as well as good elasticity and resilience. Nylon also has a nice drape. It can be washed or dry cleaned, but because it repels water (the technical term is hydrophobic), it tends to build up static and pills easily. You'll find nylon used most often in intimate wear, swimwear, exercise wear, hosiery, and sometimes in jackets.
Spandex gives excellent stretch and durability without pilling or building up static. Spandex, is quite expensive to produce, however, and tends to yellow over time. This is not usually a problem, though, because it's often blended in small quantities (sometimes as little as 1%) with other yarns to make a composite fabric with some stretch.
The most interesting innovations in the manufactured fiber industry have been in the production of microfibers. These fibers are much finer than the manufactured fibers I've just discussed, and there are two methods used to produce them. In the first, very fine filaments are produced which are then stretched to make an even finer yarn. In the second method, two polymers are combined into a filament which is then split it into a number of even finer filaments.
The fineness of these fibers gives them their unique qualities. The hand is softer than other manufactured fibers, they drape better, and they wick moisture. Microfibers can also be combined with other fibers to improve on the original qualities of another fiber. They are, for example, blended with wool to make the wool appear to be a better quality than it actually is.
Now that we've discussed common fibers used in apparel fabrics, we'll turn next to discussing some of the finished fabrics themselves and how they are best suited. While many of us sew with some basic commodity fabrics, I hope to introduce you to a few fabrics you may not have considered for your next sewing projects.
—Liesl Gibson
Liesl Gibson designs the popular Oliver + S line of sewing patterns for children's clothing. She recently announced the upcoming release of her new fabric line, City Weekend. Read more of her writing on the Oliver + S blog.