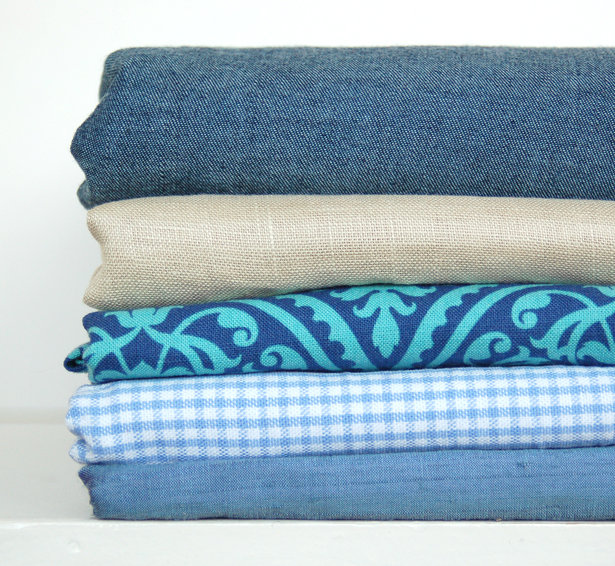 ShareThis
I sew mostly with fabrics made from natural fibers. I tend to prefer them over fabrics made from manufactured fibers for their feel and the way they take color.
My last few posts on natural fibers, petroleum-based manufactured fibers, and cellulosic manufactured fibers went into a lot of technical detail on the building blocks of the fabrics we use for sewing. This month, I want to talk about the properties of some of my favorite fabrics themselves. If you remember what I discussed at the fiber level, you should start seeing how the fibers, when assembled into fabrics, bring their properties to the materials we use for sewing.
Quilting cotton is one of the most readily available fabrics. There are an almost unlimited number of prints and colorways available in the market, and this kind of cotton is very low maintenance. It's also inexpensive and easy to sew. The problems with using quilting cottons for garment sewing, though, are that it does not drape as well as other fabrics. Quilting cotton also wrinkles easily and needs to be ironed. The colors also fade over time.
Linen softens and relaxes over time. It's comfortable to wear, and it takes color nicely. On the other hand, it frays easily, is prone to seam slippage (when the threads near the seams tend to move, leaving gaps or holes near the seam), and wrinkles badly. This, however, can be seen as an inherently beautiful quality, but it needs to be taken into account when you select a style to sew.
I love sewing with silk dupioni. It take colors wonderfully, and the iridescent fabrics—where the warp and weft threads are two different colors—can be really attractive and give elegant effects to a garment with simple lines. The fabric also has a nice sheen, and the slubs give it a natural or organic appearance. Silk dupioni does require more care than other fabrics, though. The colors can run, so you need to be sure to pre-wash your fabrics. (I sometimes put a little white vinegar in the water when I'm pre-washing fabrics. It stops the colors from running.) It's also prone to seam slippage like linen and doesn't have a lot of drape.
Cotton chambray is one of my all-time favorite fabrics. This version of denim was popularized by Claire McCardell. When I can't find a dark, denim-like chambray that appeals to me, I purchase lightweight denim and use the back of it as the face for the right effect. Chambray is durable, attractive, easy to care for, inexpensive, and goes with nearly everything.
Men's shirting is another favorite of mine. Shirtings are made from high-quality cotton with a weave that is much finer than quilting cotton. Good shirting is usually yarn-dyed, which means that the yarns are dyed before they're woven, so the colors aren't sitting on top of the fabric (like they are with quilting cotton) but are actually part of the fabric itself. The colors are part of the weave, and you can find really interesting patterns and textures in the fabric. Even though they are more expensive and difficult to find than printed cottons, shirtings are a pleasure to sew, but you need to use a finer needle than you do with quilting cotton.
Silk and linen blends work wonderfully for garment sewing. They have a beautiful texture (with the little slubs in the fabric) and a nice luster. They also have great body (meaning not a lot of drape) which make them perfect for sewing full or pleated skirts and boxy jackets. Like shirtings, though, they are more expensive and difficult to find. Silk and linen blends also bring the risk of seam slippage.
These are a few of my fabric fabrics. What do you like to sew with? What are your favorite fabrics?
—Liesl Gibson
Liesl Gibson designs the popular Oliver + S line of sewing patterns for children's clothing. Her new fabric line, City Weekend, will be available at independent fabric stores worldwide in September. Read more of her writing on the Oliver + S blog.