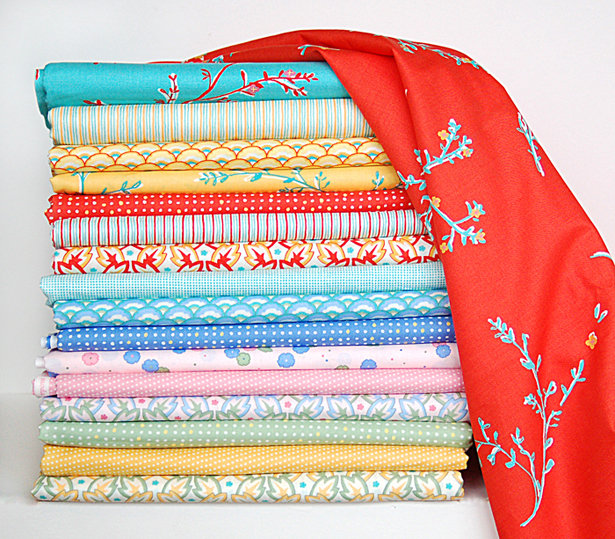 ShareThis
The first Oliver + S fabric collection will be arriving in stores next month. When people hear that I've designed a collection of fabrics, they often ask how it's done.
To create a coherent group of approximately 10 designs, each printed in three or more colorways, it's helpful to start a collection from a single source of inspiration. I wanted this collection to feel urban and contemporary, yet clean and serene—not cute or nostalgic, or bold and loud, or overpowering.
To find my inspiration, I went looking for a story that would encapsulate these feelings. I realized that these are the feelings I associate with spending a relaxed weekend in the city. I imagine waking up on Saturday morning in a downtown loft, rolling out of bed, and popping down to the corner bakery for a pastry and a coffee. Breakfast is followed by a stroll through the neighborhood and over to the park.
This story served as the touchstone for the design decisions I made during the creative process. Any print, any color, had to align with this story to be included in the collection.
Once I had my story, I needed to choose a color palette. I find that it's important to do this early in the process because it helps to define the patterns. For this collection I selected clear, vibrant colors of blue, turquoise, red, and yellow-orange with supporting shades of pink and green in smaller quantities.
Then it was time to work on the designs. A print collection needs a variety of scales and patterns. I started with a large branch print that set the tone for the group. So that it didn't become overwhelming (as large prints can), I kept it loose and open in feeling. On the opposite end of the spectrum, I included a number of tiny dots and stripes that work as almost-solids and can be combined easily with the other patterns, and built a selection of medium-scale prints to round things out.
Many of the prints started as pencil sketches, which I scanned into the computer and continued to work in Photoshop. (Many designers work with Illustrator, but I often prefer the softer, hand-drawn look that I can achieve with Photoshop.) Working with a stylus and tablet to draw the designs directly on the computer can take days for complicated patterns or just a few hours for simpler ones. Once a design is complete on the computer, it's easy to change the colors to develop and select the colorways for each pattern.
Before submitting the designs to the mill, everything needs to be put into repeat so it can be printed continuously onto the yardage without interrupting the pattern. Depending on the print, this can be a simple or more complicated process. It's also my least favorite part.
After the designs are submitted, the mill engraves printing plates and produces small samples of the prints in each of the colorways, called strike offs. This gives everyone a chance to check the patterns and the colors before the final yardage is printed. At this point, final decisions on the composition of the line are made. Some prints get the ax, as do some colorways. Additional colorways might be developed for existing prints to round out the collection. And, then, it's back to the mill for printing.
Liesl Gibson designs the popular Oliver + S line of sewing patterns for children's clothing. Her new fabric line, City Weekend, will be available at independent fabric stores worldwide in September. Read more of her writing on the Oliver + S blog.