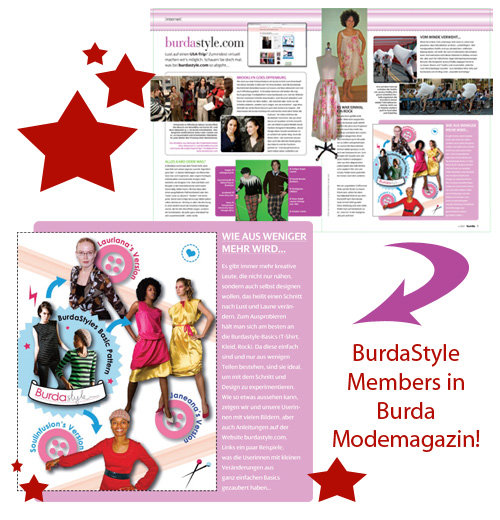 ShareThis
Sometime in these past few months, did we ask you to send us High-resolution photos of some of your creations? Well, if we haven't yet, we might soon! But a lot of people are wondering for what. Well, here's the deal. Burda Modemagazin so graciously gave BurdaStyle a special two page spread in every issue! We use this space to share news about Brooklyn, trends, and especially, our beloved members! And while we would like to feature all of the members who send us pictures, we cannot. We can decide the articles and the overall theme, but in the end, Burda Modemagazin chooses what will be published! So, if you are wondering why your photos were not published, this is why. We are really grateful to you for sending them to us, though, and will try to use them in some other way! We'll of course let you know if we do. Unfortunately, this spread is only published in the German edition, so even some of the BurdaStyle team can't read it!
At any rate, the March 2008 Issue features variations of the Lydia pattern. This issue, Lauriana, JaJo, and Soulinfusion were chosen for the spread! Congratulations to them! If you can understand German, or could at least appreciate the beautiful photography and style inspiration, you should check it out!
On a separate note, we have been "Flickr-ing" it up lately it seems. We just added some photos from a very fun but also chilly and windy day here at the office! We had a lot of visitors from Germany, including Steffi Czerny, managing director of marketing and communication for Burda and founder of the DLD Conference. Along with her came Rupert, the producer of DLD, and Georgina, another member of the DLD team. Jorinde Gersina took all the amazing photos, and even brought her daughter, Sydney, who stayed with us for a few weeks as an intern!
Want to know the most exciting part of all! We had professional make up artists come to the studio and make us pretty! And might we add, all together, we are a pretty good looking staff! Check out the pics here!