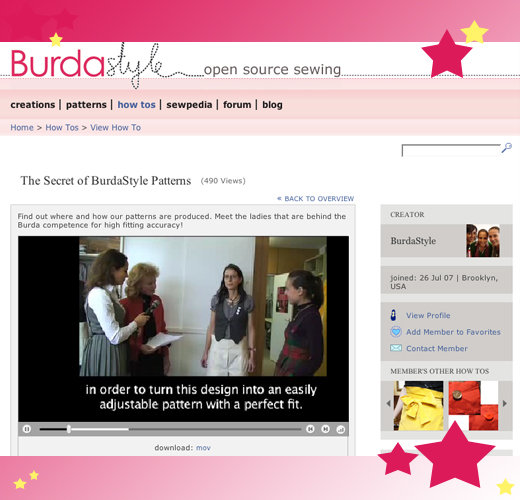 ShareThis
Secrets, secrets, are no fun. . .
So BurdaStyle is going to share some secrets with you! We're sure everyone is curious how the patterns turn from muslins in our Brooklyn studio or illustration submissions from one of our design calls, into Print at Home PDFs for everyone to download on BurdaStyle. Well, its actually a pretty long, detailed process, involving a lot of talented people and lot of work!
Nora and Benedikta took a video camera along with them this time on their trip to Offenburg, where they work with pros, to share the experience. We've uploaded the video in the How Tos section so everyone can get a peek behind the scenes. Watch it now and tell us what you think!
On a separate note, we have a request to you, our members. Every now and then, and usually without much time for planning, we are asked to contribute some content to various publications and websites about BurdaStyle. Most recently was this Business Week article, which featured Mirela, who so kindly accommodated the interview at the last minute!
Since the site is nothing without the members, we would like to keep some high resolution photos of member's creations on hand, since these article requests come up out of nowhere sometimes! If you have some high resolution photos of your pics (300 dpi, printable quality), and would like to possibly be featured in one of these articles, please send them to us! We'd love to share them! Please email them to answers@burdastyle.com !