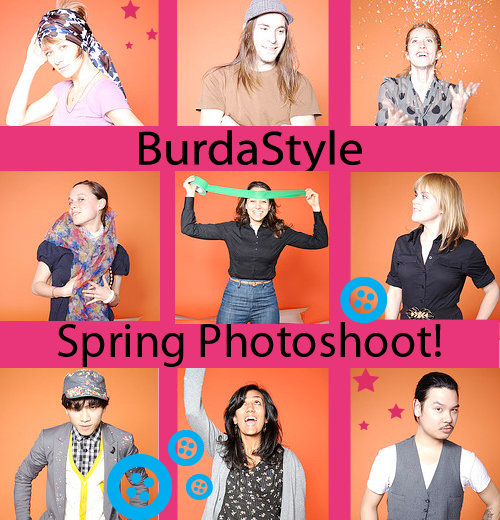 ShareThis
We at the BurdaStyle team are just bursting at the seams with excitement! Why, you might ask? Because we just had an incredible photo shoot! With the help of our troupe of style mavens, this has proved to be the best shoot yet! Because of this, we have decided to go ahead and give you a sneak peak at our upcoming collection! Unfortunately, we can't give away all of our secrets, but you'll get the idea. Along with the sneak peak of the creations, you will see some of what goes into a photo shoot. We had so much fun, we almost forgot we were working.
It was so exciting to be around all of these incredibly talented, creative people. We need to thank everyone who made the shoot so great! Between the awesome hair created by Andre Gunn and the amazing art direction of Kyla Fullenwider, the impeccable make-up of artist Jordy Poon and the perfect styling of Alison Miller, this shoot could not have gone better. WAnd last but not least, the people without whom the shoot would not have existed, our incredible photographer, Danielle St. Lauren and her assistant Joe Leonard. Their eye for creating the perfect shot truly made everything come together. e went in a totally new direction, and everyone helped us pull it off! This group of people created a world for the BurdaStyle clothes to fit perfectly into, and for this we are thankful. Check out our Flickr stream for the pictures.
But it's not just that. We are also thrilled to announce the new Shakira pattern in our pattern database. You can see us coming through with our promises, with last week's Jakob Mens Shirt and this week, our first plus size pattern! The Shakira dress is available in sizes 46 through 60, and we encourage everyone to adapt the pattern and make it your own. It is a simple yet flattering silhouette, and an easy garment to fit because of its princess seams.
Unfortunately, we also have some sad news to share with you at this time. We have to announce that our most talented, fun, and cheese-addicted Nayantara is leaving us. She's got great plans on her own to venture out starting her own line! We're more than excited and curious to see what she'll come up with and know if she goes about it with the same passion that she did during her time with us, the line will be a great success. Nayantara has been with us almost from the very beginning and a great share of what the site is to you and us today is to her credit. She strongly helped shaping the community with lots of advice and fabulous how tos as well as the creative and organizational aspects of BurdaStyle. We'll miss her and her incredible talent to make the most boring how to and blog entry in a fun exciting read. Her ideas and how tos have inspired so many everyday. Thanks Nayantara for being a great BurdaStyle team member!
Nayantara's leave means the opening of a job position. . . Are you experiences with pattern making and design? Do you like sharing knowledge and supporting a most creative community? Then apply to answers@burdastyle.com.
Best Wishes,
The BurdaStyle Team
Special Thanks to Sydney Gersina, our special intern these last few weeks, and the photographer of the fun shots in this blog!