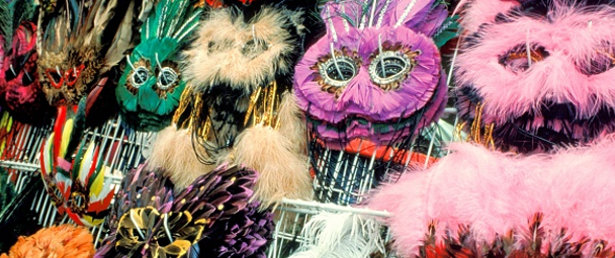 ShareThis
Image via Getty

Does your closet look like a smooth color transition from white-beige to greyish-black? Then you should finally add some colorful pieces. Wearing all-neutral colors is over and the best occasion to celebrate this is todays Mardi Gras. The so-called "Fat Tuesday" (today!) is the final day of the carnival revelry before Ash Wednesday. It is celebrated all over the world, but the most exciting outfits can probably be seen on the parades in Sydney, Rio and of course, in New Orleans, Louisiana!

Have you ever asked yourself why the Mardi Gras' official colors are purple, gold and green? They were introduced in 1872 when the first King of Carnival, Rex, presided over the first daytime parade. Gold stands for power, purple for justice, and green for faith. So use one of our gorgeous patterns below and create your own colorful dress. Add one of your favorite masks and matching accessories to give it a festive touch. Let's celebrate Mardi Gras (and a colorful closet fresh-up)!


Empower yourself – as the motto of this Mardi Gras color is – and add a little of golden sparkle to your wardrobe or a happy shade of yellow. These are our picks: with slanted seams, a flared midi dress, a tie-neck dress, a shirt dress with front pockets or a knotted tunic. The golden and yellow clutches as well as the flatform sandals can be found on shopbop.com.




Purple can be a nice variation when it comes to party dresses. So, why always wear the little black one? Purple looks very noble, especially in a dark aubergine tone. Choose one of these patterns to create your own purple dress: A retro wool dress, a pleated tunic dress, a party dress, a one shoulder dress, a bodice dress, an elasticated dress and a dress with horizontal seams. Pair it with sparkly pumps, a mini-satchel and tassel earrings.






Mardi Gras' third signature color is a vibrant green. We collected three patterns of flowy dresses for you (Plus Size, oversized or with chiffon fabric) and three evening dresses (with a rosette gown, with an organza overdress or an illusion neckline). Choose tassel earrings, a nice matching bag and flatform pumps to top off your outfit.
Happy Mardi Gras!


Accessories via Shopbop.com