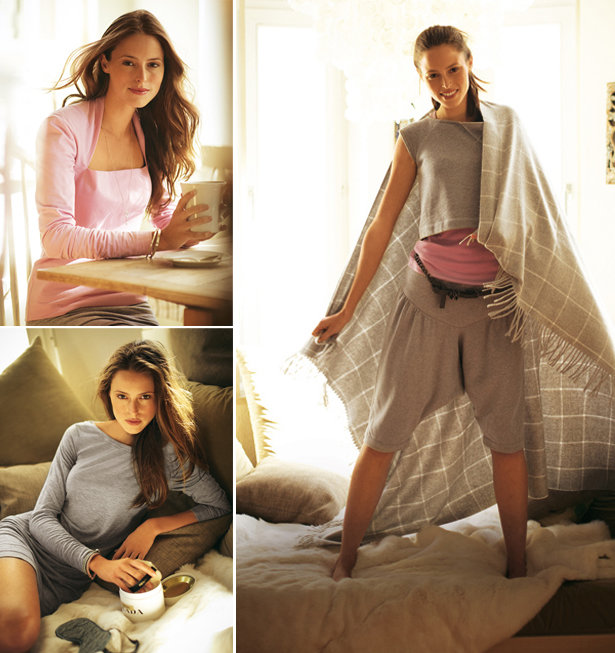 ShareThis
This collection from the January 2011 issue of BurdaStyle magazine has been updated with new instructions and descriptions as well as an addition three new patterns. This collection is perfect for lounging around the house all year long.
Click on the pattern image to go to the pattern store page…
This lovely wrap top features long sleeves and a cropped hemline. The binding tapes if wool jersey shirts are quite simple and are drawn through an opening in the side seam.
These knit leggings are basic and a great start to making pants.
These knit leggings are flattering with a mini skirt overlay so you don't have to worry about covering your behind.
This hip length shirt is made using a jersey knit fabric and features long sleeves and an open neckline.
Comfortable doesn't have to be ugly! This shirt features a wide straight line neckline, long sleeves and a wrapped neck.
This long knit cardigan is made using a soft knit fabric and features a lovely shawl collar.
These long harem pants feature a broad form yoke and cuffs at the hem, closed with a side zipper. Wear with cute sneakers on your way to the gym.
These harem pants are most definitely made for the comfort of lounging around at home. They feature a broad form yoke and cuff that fits at the hem, closed with a side zipper.
This long tunic shirt features a boat neck, narrow long sleeves and slides on overhead.
You will feel sexy and comfortable in this sweatshirt dress, perfect for days lounging around. It features a boxy fit, short sleeves and a wide neckline.
This easy-to-make sweatshirt top features nearly no sleeves, a cropped hemline and boxy shape.
Throw it on after yoga class and spend the rest of the day lounging around. This sweatshirt top features a decorative triangle at the neckline, short sleeves and a cropped hemline.
Want all these sewing patterns? Get them all here in the pattern bundle.
Happy Sewing!