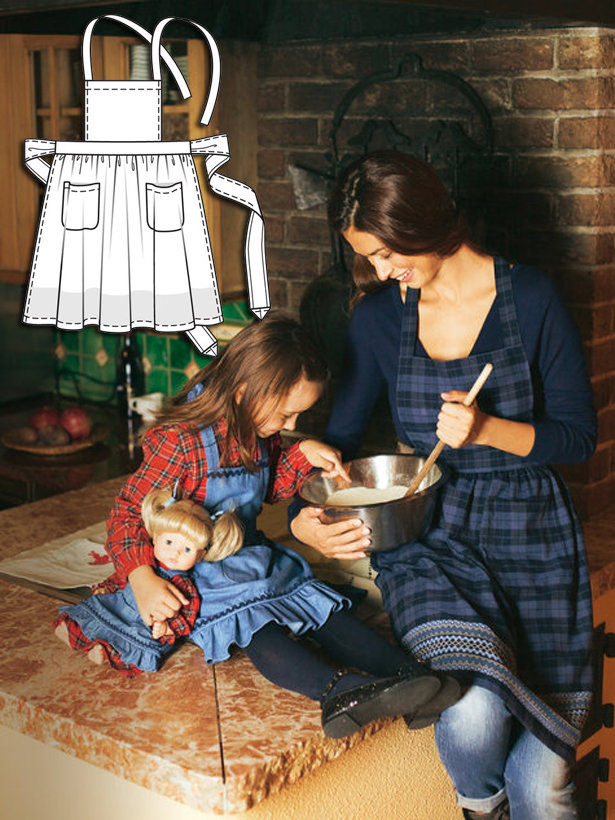 ShareThis
There is only a couple more days until Christmas, and what if you need to still get some gifts! Avoid the snowy roads and crowded malls, dig out your scrap fabric, and get out your sewing machine. These aprons and oven mitts make great gifts for anyone on your list, and they are sew easy to make in just one day (or afternoon).
Above is our draft-it-yourself Apron pattern that can be made easily with only 1m of fabric. Try mixing and matching different prints and trims to get a customized look.
Since this is a draft-it-yourself pattern there are no physical pattern pieces that you print (and it's free!). All you need to do is draft a bunch of different rectangles and squares and sew together! Refer to the Instructions here for specific measurements, cutting and sewing descriptions.
You can also try sewing up our matching Layla Apron and Oven Mitts. I love them in this leopard print here! Projects like these are a great way to use up some of your novelty printed cottons.
The Oven Mitts are an easy project, and result in a practical (and adorable) gift that everyone can use.
Baste a layer of each material as fabric, volume fleece and single colored fabric on top of each other in a way that you make up two mirror imaged gloves. (1)
Lay the pattern pieces on top of each other, the patterned pieces as the inside of the glove. Stitch the lateral edge (thumb side) on top of each other, around 4 inches (10 cm) along the edge. Cut allowances to ¼ inch (0.5 cm), neaten altogether. (2)
Enclose the upper glove edge using the preseamed strap: Fold the pre-seamed strap along the fold line (center line) and press. Position the glove fabric edge between the two strap edges until it meets the center notch/fold. Pin the strap that encloses the glove from both sides. Stitch. Press the rest of the folded bias strap and stitch the edges together. Make a noose and baste onto an end of the enclosed upper edge. (3)
Position the other sides of the pattern pieces nicely on top of each other and stitch the edges, now the noose will be enclosed on the upper edge. (4)
Trim allowances to ¼ inch (0.5 cm) generally and at the inner rounding at the thumb to 2 mm (4a). Neaten allowances altogether. Fold glove inside out. (5)
These are adorable and what a great idea to make him or her a matching set!
Happy sewing and gift giving!
Meg