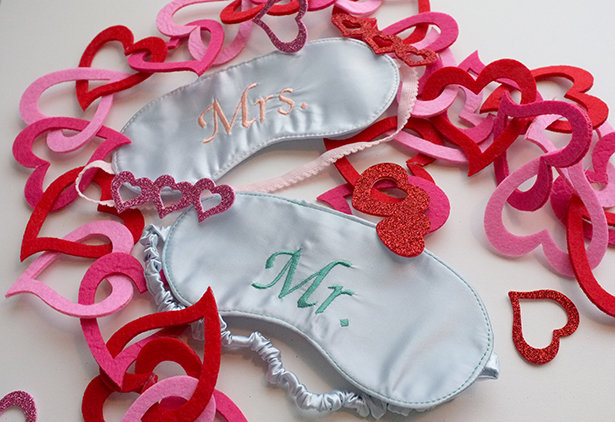 ShareThis
Still need a Valentine's Day gift? Quickly sew something up yourself, as handmade gifts are truly the best to give… along side chocolate and flowers of course. Check out some great DIY gifts below that are also quick to sew.
A great last minute gift that you can make your you and your hunny are matching sleep masks! Use a unique fabric, embroider something on it, tweak the shape, just make it personal to show your love. This project comes together very quickly so you have time to sew before the big day.
I used this sleep mask pattern from the 12/2010 issue of BurdaStyle magazine.
Since it is National Embroidery Month I had to do some embroidery on them! I set up the hoop in my embroidery machine and embroidered Mr. & Mrs.. Also makes a fun wedding/engagement gift, because wedding season is almost here.
For the fabric I used Shannon Fabrics silky satin in blue and interfaced it for embroidering. This fabric was great to use since it embroiders well when interfaced and is nice and smooth (and cool) while wearing. Shop silky satin fabrics here.. You could even make them in black silky satin for the 50 shades darker type mask.
I added seam allowance to the pattern and cut out the pieces centering the embroidery within the piece. I also cut out an additional piece for the backing and fused batting to it.
For one of the masks I found matching lace elastic for the band, then the other I cut a strip of fabric 1 1/4" wide to thread 1/8" – 1/4" wide elastic through.
First, determine your elastic length (wrap around your head until comfortable) and mark the elastic placement on the under layer of the mask. Sew in place on the sides.
Lay the mask pieces right sides together making sure the sewn elastic is all inside.
To make the gathered elastic band grab the fabric strip and the elastic, make sure the fabric strip is twice as long as the elastic. Sew the strip right sides together at about 3/8" and pull to the right side using a strap turner.
Then thread the elastic through with a safety pin or again using a strap turner and sew to each end making sure the elastic doesn't get lost in the tube.
Again, mark the placements and sew into place at the sides.
Pin around the mask edges making sure they are laying right sides together. Leave a small 2" opening somewhere around the mask for turning it right side out.
Once sewn, clip around the more curved edges and trim the seam allowance. Don't trim and clip around the opening.
Press and turn right side out and fold in the opening's seam allowance and pin together. The opening gets sewn back together when you topstitch around the edges.
I matched my topstitching to my embroidery thread and sewed about 1/8" in from the edges.
And they're done!
I always love a good apron to make for a holiday, remember these matching holiday aprons I made?
So if your cooking a special meal or baking some heart shaped treats, why not do it in a themed apron? You can make this as a gift for your Valentine and add a personal touch like embroidering an inside joke onit or sewing it in their favorite color and/or print. Everyone needs an apron (or three), and they really are so easy to make. And I promise this will be the last apron I sew for a while, haha.
For this apron project I used this recently added apron pattern from the 01/2012 issue of BurdaStyle magazine. I like how it is simple and one size fits all!
I cut the apron in a natural and to keep with the embroidery month trend I embroidery hearts on the patch pocket pieces.
I actually didn't have a large enough piece of fabric to cut the apron on fold so I made a center seam and decorative cross-stitched on either side. I always love to use up scrap pieces of fabric and sometimes a little experimentation and creativity is needed to use up some of the pieces.
For the pockets I used the same decorative stitch to sew down the top allowances. Serge around the pocket edges, press allowance inwards and pin in place on the apron as per the pattern markings. You can also get really creative here for the pockets by making the entire pocket a heart shape, or any shape you like.
Bind the top edge and sew into the "V" to create a point.
What I did here is a bit different than the pattern instructions. I made my binding extend to be the neck straps as well as the waist tie bands. First serge, press, and finish the hem and lower sides edges to the strap marking on the pattern. Then pin binding in place from where topstitching ends, leave excess binding at the top and sides.
Sew binding all together and you're done!
View from the neck edge.
I love this apron and plan to make some Valentine's Day morning pancakes in it! So either make it for yourself as a gift or customize it for your sweetheart.
Lastly, show your love for sewing on Valentine's Day! Sewing can totally be your Valentine, and the perfect way to show your love is to actually sew. I used this embroidery design and made a fabric pouch box for my studio. Click here for the DIY tutorial on how to make this standing fabric pouch, no pattern required.
Below are some other quick handmade project ideas, try making a bow tie, cap, or boxers…

Bow Tie pattern; Cap pattern; DIY Boxers post and pattern
Happy Valentine's Day and Sewing!
Meg