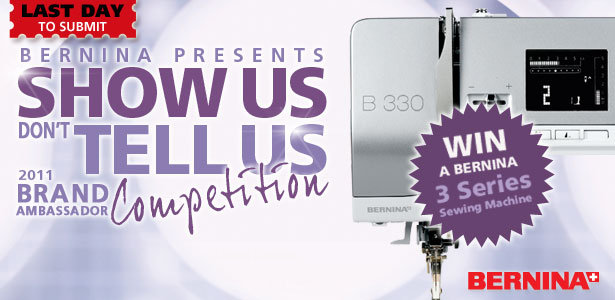 ShareThis
BERNINA USA is looking far and wide for three US-based Brand Ambassadors to experience and help spread the word for their new BERNINA 3 Series machine, so BurdaStyle has partnered with BERNINA on a competition to help find the best candidates for the job! But have no fear, this contest is international! BERNINA still wants to show some love to our community outside the US, so we made this a two-part competition.
We want you to Show Us, Don't Tell Us: How do you express your love for sewing?
Create a 30 second video showing us how do you express your love for sewing, but…you have to get your point across without speaking! Use only visual communication (written language is okay) to tell us how you express your love for sewing and you could take home a sweet cash prize or if you're US-based, you could end up as the new BERNINA Brand Ambassador for 2011 and bring home a BERNINA 3 Series machine!
Your video doesn't have to be silent film. Background music can be fun, just no speaking! We really want you to step out of the box and get those creative juices flowing with this competition!
Watch our announcement video above, done in the Show Us, Don't Tell Us style!
How to Enter:
1. Create a short video, 30 seconds or less, that answers the question: How do you express your love for sewing? Remember to Show Us, Don't Tell Us! The BERNINA logo shown below must be creatively displayed in your video in some way, shape or form.

(click on image to download in high resolution)
2. Upload your video to YouTube. The name of your video must include the phrase, "BERNINA Presents The Show Us, Don't Tell Us Brand Ambassador Competition." Your video description must include your BurdaStyle member name along with a link to your profile, and country of residence.
3. Respond to our announcement video with your video! Judges will only be watching videos posted in response to our announcement on YouTube. Click here for YouTube's instructions on this step. This step is very important because we won't see your video if you do not post it as a response to ours!
4. Send an email to submissions@BurdaStyle.com with a link to your video, links to your personal sewing/crafting blog and all social media pages (i.e. twitter, facebook, etc.).
The deadline for submissions is March 29th, at 11:59PM EST.
Prizes:
BERNINA will be naming 3 US residents (living in the United States) as their 2011 Brand Ambassadors! Each Brand Ambassador will receive a BERNINA 3 Series machine to experience and review for a year or longer, shout outs to your blog to our sewers across the world and perks and freebies from BERNINA USA partners. These Brand Ambassadors will be asked to help spread the word on the new 3 Series machine through their own blogs in creative ways such as monthly posts, projects, pictures and videos.
On top of that, BurdaStyle will be naming 5 finalists eligible to win cash prizes! All BurdaStyle members are eligible to win the cash prizes, both US and International!
First Place – $200US
Second Place – $100US
Third Place – $50US
On Tuesday, April 5th, BurdaStyle will introduce the five finalists on our blog, via five separate consecutive blog posts. (The chosen BERNINA Brand Ambassadors are eligible for these cash prizes as well!) The entire community has until Monday, April 11th at 10AM EST to vote by Facebook "Likes" on each blog article. So you will need to have a Facebook account to vote! On April 11th, whichever three posts have the most Facebook "Likes" will be the first, second and third place winners!
BurdaStyle will be awarding 3 winners based on a the total number of Facebook "Likes" by April 11th at 10AM EST
Open to all BurdaStyle members. See official rules here.
***UPDATE***
A little bit more about the BERNINA Brand Ambassador Program:
Every year, BERNINA partners with guest bloggers to help spread the word about their sewing machines and offer fun projects to their blog viewers. BERNINA is dedicated to building wonderful, reciprocal relationships with these bloggers. In fact, most of them have been working with BERNINA for over 3 years! BurdaStyle feels that this opportunity is a great fit for our community and we are excited about opening up this to you!
BERNINA wants to develop relationships with BurdaStyle community members that will last well into the future- not just this year! Not only will the relationship most likely last over multiple years- it will also evolve! This is far from a one-off program, which is why BERNINA is looking for bloggers and sewers who will best be able to represent their love of sewing and to work with them for many years to come.