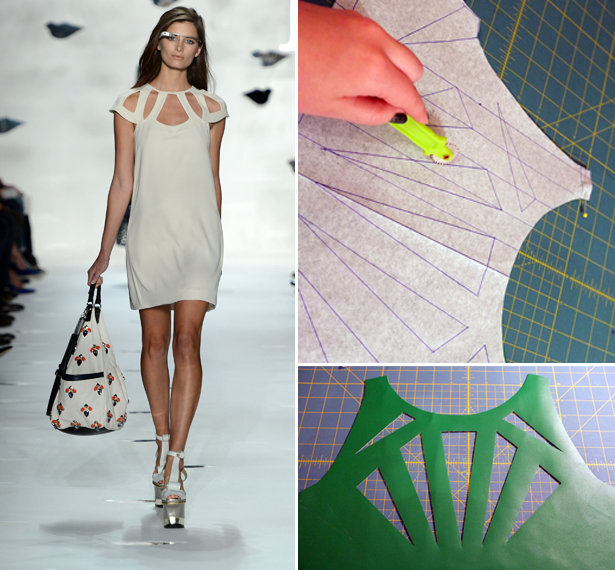 ShareThis
Last year while I was in Europe I bought a tank top with a laser cut top pleater panel, I love it and wear it all the time! Then I thought I can easily create my own (plus I really wanted another one). All you need is a tank pattern, a small piece of vinyl fabric (or faux leather / pleater), a ruler and rotary cutter or x-acto knife! See how you can make yourself an edgy laser cut tank with this DIY.
For my tank, I used the above right Shift Dress for my DIY, but this Tank pattern would also be a great pattern to use. You can see below how I shortened this dress pattern and created my top panel.

Left: Photo by Frazer Harrison/Getty Images for Mercedes-Benz Fashion Week, Right: Photo by Joe Kohen/Getty Images
Like most trends, laser cut-outs started to appear on the runway. I love the tear drop cut outs from Diane von Fürstenberg (left), and also the intricate neckline cut out from Cushnie et Ochs spring 2013 (right).
Step One
Print, assemble, and add seam allowance to your pattern. I used our Shift Dress pattern (because I love the shape of the neckline) so I needed to shorten the hemline to make it into a tank. I also extended the side seam out 1" because I wanted a looser fit on the bottom half of the tank (I added no additional width at underarm point). Starting at underarm point draw a line parallel to center front, this becomes the seamline where the top panel attachees to the bottom of the tank. This pattern has a dart in the upper of the armhole, I decided I wanted the look of a dart in my vinyl, but you can easily rotate this dart into the seamline.
Step Two
Trace off the different panels of the tank front, and add seam allowance to the seamline. The back can be one piece.
Step Three
Cut your top panel out of vinyl/faux leather, and trace the darts (if needed) on the wrong side of the panel with tracing paper. Now it is time to plot out your cut outs! I found it easiest to place my pattern on a gridded cutting mat and transfer the 1" grid. From there I drew my triangle shapes. Once I established the design on one side, I folded my pattern in half and traced to the other half of my pattern. Place the pattern back onto your fabric panel and transfer the cut out lines with a tracing wheel not using tracing paper! The nature of the vinyl/faux leather will allow the dots on the tracing wheel to make a nice clear line.
Step Four
Using an x-acto knife (or rotary cutter) and ruler, CAREFULLY cut out the pieces on your tracing wheel lines. Now cut the bottom portions of your tank and sew together!
Stay tuned for my completed project of this tank.
Happy DIYing!
Meg