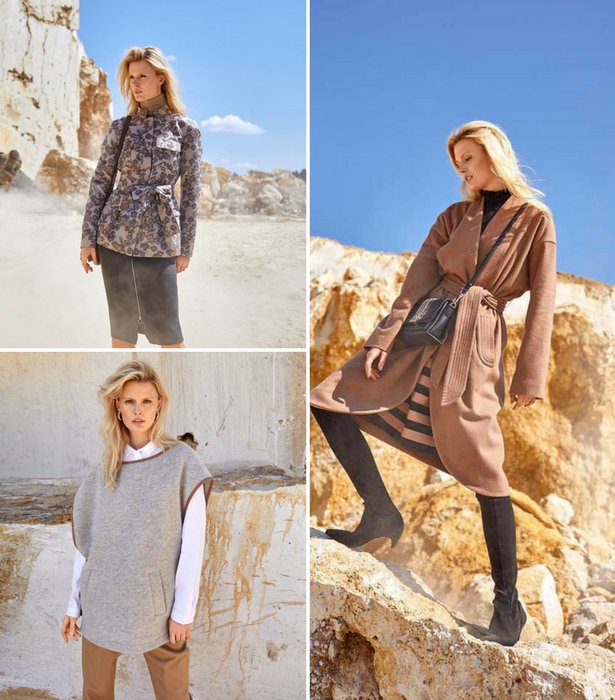 ShareThis
Elegance and comfort are absolutely on-trend! These styles in fine fabrics and sophisticated shades of beige and brown from the 10/2017 issue of BurdaStyle are just right. There is even a touch of leopard print – great for every age.

For a look that is both stylish and comfortable, this asymmetric shirt with the sewn in belt is a great option. The overcut shoulders drop into narrow sleeves and the relaxed bateau neckline is a flattering look for every figure.



This sporty cape in a variegated wool sweater knit is a quick sew that looks incredibly sophisticated. The edges are finished with a wrapped binding and the waistline is drawn in with a wide tying band. Gorgeous!



The relaxed, double layer style and the attached sleeve flounces for this style sewn with a sexy leopard print come together for an incredibly flattering look. To keep it on the tamer side, pair it with narrow trousers or pencil skirts in cream or black.



This jacket is a casual utility style with feminine upgrades. Patch pockets and a standing collar are still original to the classic – with refinements to the safari look that include the leopard print jacquard fabric and the tying belt with the oversized buckle for an elegant fashion statement this autumn.



The combination of knife and inverted pleats while using this jacquard fabric, produces a beautiful cascade of light effects that grab and deflect light for added interest. The front yoke and back panel are flat to keep the style closer to the body.



This dress shapes the figure by design. The body-hugging fit gets definition through panel seams with piped trim. Sewists who like to play with colour and prints can use complementary combinations of large and small prints or sew it as a color block style.



A belted panel in front defines the waistline at the middle band of the dress, though it is secured into the side seams so that it stays perfectly in place. A turtleneck sweater worn underneath updates the refreshed 60s dress for the cooler temperatures of the season. For a sharp look that works for the office, pair it with a blouse.



A clean look that is truly elegant. The slightly flared at the hem dress with closely fitted and cropped sleeves also includes shaping darts. The lightly shimmering rep fabric adds a festive touch.



Trust in yourself! This unlined coat with the kimono sleeves and rounded hem is one that sews together quite easily even for less experienced sewists. The tying belt and pocket flaps are quilted as an extra element of detail.



Whether headed outdoors or staying inside, this shirt with binding at the edges gets sewn in a cosy mohair fabric. Welt pockets make it a great choice to wear instead of a jacket or a waistcoat. The side slits are closed with large buttons.


Get ALL these pattern styles at a discount here with the pattern collection bundle!