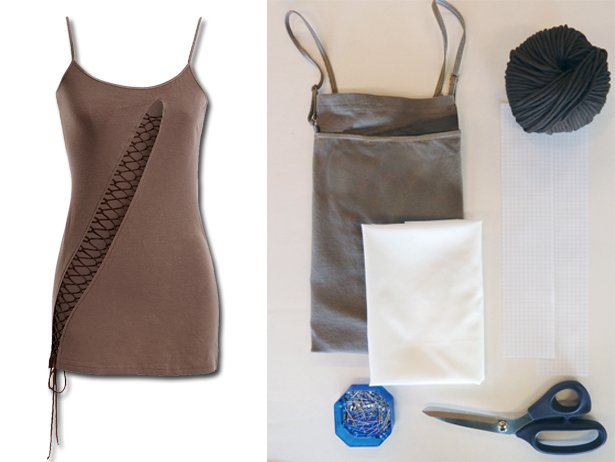 ShareThis
With buttonholes, loops and leather lacing your outfit gains a whole new scope.
To make a laced up tank all you need is:
- Top/Tank
- Tube yarn
- Interfacing
- Gridded paper (each square 5mm)
- Tailor's chalk
- Sewing Thread
On front of top, marked an angled slit line with tailor's chalk. Transfer line to wrong side of fabric. Iron a strip of interfacing, approx. 8 cm (31/4 ins) wide, to wrong side of fab­ric, over marked slit line.
Step 1:
Fold edges to wrong side, and stitch in place. Lay paper under slit and pin loops in place. Make sure that loops on both slit edges lie at same levels.
Step 2:
The loops are 2 squares high and 1 square wide. Then work from right side of fabric to carefully sew the loops in place.
Step 3:
When the loops are firmly sewn from both sides, you can carefully tear the paper away. Lace yarn crosswise into loops, from top to bottom. Tie ends of yarn in a bow.
For that Western look all you need is:
Denim shirt, leather band 4 mm (a generous 1/8 in) wide and 2.00 m long, vanishing marker and sewing thread.
Cut buttons off of front button band. Pin front edges together, right sides facing. Beginning at lower edge, stitch close to band attachment seams, 20 cm (8 ins) long. On the inner side, press the seam open, then fold the front bands to the inside, press, and baste in place. Make a pair of 1 cm (3/8 in) long vertical slits (like buttonholes) in shirt, 1.5 cm (5/8 in) from pressed-­under edges. Make the first slits approx. 3.5 cm (1 3/8 in) below the collar stand then make approx. 7 more pairs of slits, spaced 3.5 cm (1 3/8 in) apart. Lace leather band crosswise ­into slits, from bottom to top.
Try wearing these trendy tops with a pair of Lace Leggings or under a casual One Button Blazer.
Yee Haw!