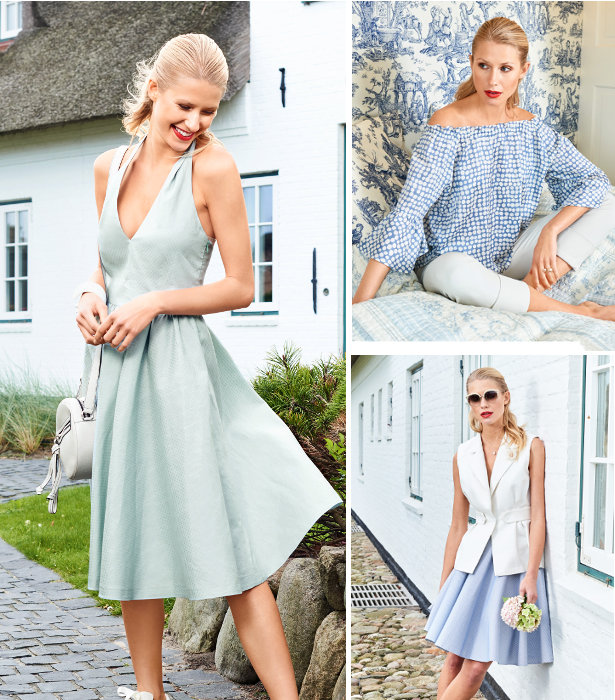 ShareThis
Start sewing now because these elegant spring fashions from the February 2017 issue of BurdaStyle have star potential! Be ready with your romantic '50s wardrobe in soft pink and pale blue.
Get your daily dose of Saint-Tropez glamour! A style favorite of the '50s, you can adjust the blouse at the shoulder to your preference. For a fit to follow the figure, simply add a belt or tuck the hem in at the waistline, leaving a stylish bit to casually drape.
These shorts are sewn with a Tencel fabric, crêpe fabrics would also have a similar look, for a beautiful drape. The shorts include a cuffed hem, wide belt loops and a tying belt.
A sweet and sexy style! This dress features a plunging back and a tying belt that is wound into a lovely bow in back, while also being proportioned perfectly for petite ladies. Relax the look with a pair of sneakers.
Smoking hot! This cropped off the shoulder blouse has a smocked hem and a wide ruffle along the neckline. You can lessen the amount of bare skin by pairing it with high waist trousers or pencil skirts.
A top to pair with a skirt, though it works just as well with jeans. The waist of the unlined waistcoat is drawn in by the belt tabs at the sides. This wardrobe must-have is super cool and flexible. You can wear it with a turtleneck or a blouse, and it can be a great choice for the office in place of a blazer.
So breezy… This wide skirt is sewn with an easy-care cotton and is an eye-catcher ready to be worn on the first warm days ahead.
A cool cut and a fun mix of colors in this sweatshirt! The sleeves and the gusset-shaped side panels in front and back are cut from a pale pink fabric. The main body fabric is in a soft shade of blue for a playful look.
A charming look made modern. The contrast of the fitted bodice and the the wide skirt sets the figure in an hourglass silhouette. A self-made belt at the waist is a beautiful accent. The dress works beautifully
with textured fabrics such as tulle lace used here and a strong retro print.
Cap sleeve shoulders, a deep V-neckline and an extra-wide skirt gathered at the top… this dress is sewn with a delicate and draping challis that follows the figure beautifully. It is more relaxed and summery in this mid-length version. Style it perfectly with a pair of ballerinas or pumps.
Soft pink is trending through spring fashion. A clean cut like this skirt with the close fit and pocket flaps is the best way to wear it. An ultimate flex wardrobe choice, it can be worn during the transitioning days into spring beautifully paired with over-the-knee boots and an oversized sweater.
If you love all the sewing pattern in this collection download them all here in the discounted pattern bundle.