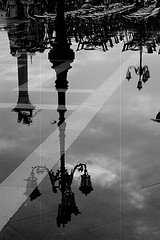 ShareThis
Let me begin by extolling the virtues of Italy. The Tuscan hills, the Dolomites, the Mediterranean. Pasta, buffa mozzarella, a thousand inscrutable things made from pig. Da Vinci, Dante, Michelangelo, practially the whole freaking Renaissance. Italo Calvino, 10 Corso Como, Marni and Prada, Marcello Mastroianni, the Trevi Fountain, L'Avventura and the Vespa. Italy, it would seem, is a superabundance of pleasure.
So I am forced to wonder why I never love being there. Maybe anyone's first visit to a place colors every later experience, but it's not like that first trip was a total disaster. The usual backpacking indignitiesthe hostel in Cinque Terre overrun with cats, the one in Venice where our bags got mugged, the fight we got into in Florence when we missed the train to Siena. The Bridge of Sighs was beautiful, the hike along the cliffs was beautiful, the Baptistery doors were beautiful and we could not bear to continue south, to Rome. We went to Prague instead.
And even now, after intervening trips to Italyeach one more pleasant than the last, and a good measure more civilized than the firstsomething about that country brings out a "Prague instead" response in me. I wish I loved Italy. I re-read James Joyce's letters to Nora from Rome and I almost love it; I dine at Babbo with my voluble Italian friends and convince myself that, indeed, I do. I watch, again, A Room With a View and imagine myself there, falling into a kiss in a verdant field. Italy is sort of like the guy I made that first trip with, the kind of guy you ought to be crazy about but with whom, instead, you pick fights at the Santa Maria Novella station. It's not you, Italy, it's me.
But Italy is so much a place of pleasure that my baditude toward it makes me feel like an ascetic, or an ice pick, or a frump. I mean, here we are, Italian Fashion Week upon us, and given the chance to contemplate la dolce vita I find myself digressing… Perhaps I could do something on the astro-nut! I'm not usually one for those sorts of tabloid stories, but Captain Nowak, with her space arm, her pepper spray, her wig and her diapers, it's really too good to pass up. Or maybe I could write about the Oscarsalso timely!or the numbing cold, or the trends I flagged at the New York shows. Prague instead, in other words.
Here's the main thing I gleaned from the New York runways: It's time for women to get serious. The colors all week were somber, dark or neutral and cut only here and there with flashes of bright. Not all the shine of Spring was gone, but for the most part fabrics hewed to the sober; tweed was especially hot. Trenches, jackets, trousers, oxfords and hats; the masculine themes reemerged everywhere. There was a girlishness to some collections, the ones that continued Spring's mod and babydoll themes, but the most directional looks were grown-up; ladylike, weirdly, in their mannishness. There was nothing androgynous, for example, about Proenza Schouler's ode to Poiret's noirish '20s, or Marc Jacobs's natty show, with its many finishing touches and winks at the Lauren Hutton '70s, or the pantsuit at Bruce that summed up New York's next winter for me, at least. Elegant and sexy, it nevertheless had the quality of a uniform, not unlike a suit.
Manly yet womanly; Yin and Yang. A slow dance of opposites that simultaneously repel and attract. When all is said and done, the New York shows felt quite…Italian to me.
This week, Burdastyle lives la maschile vita.