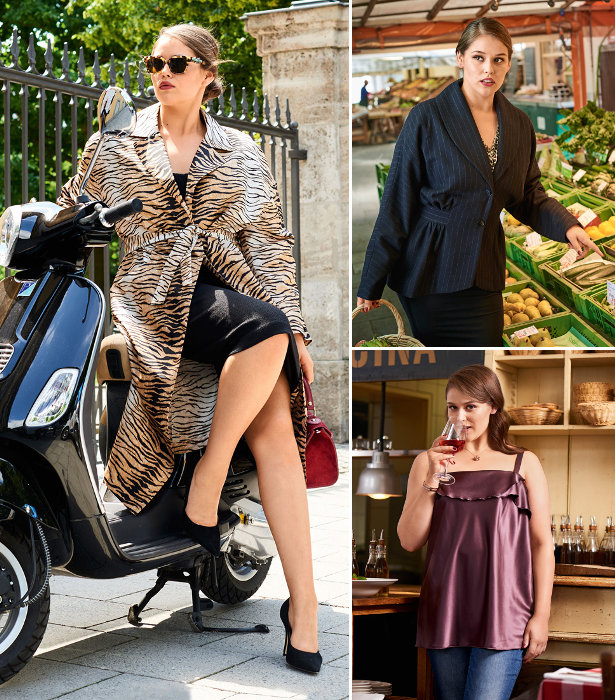 ShareThis
Sexy cuts that accentuate beautiful curves. These plus size looks from the November 2016 issue of BurdaStyle are just right and look great!
A cool effect of the cut-on kimono sleeves of this blazer is how they wrap with the pinstripes around to the sleeve hems. The bands at the waistline are placed with strategic stripes, as well.
A casual blouse that is sexy, too, thanks to the draping tie at the neckline and the dotted chiffon fabric.
Look stylish and sexy – especially when you pair it with jeans – wearing the silk blouse with the asymmetric flounce along the neckline. A perfect choice for a meal at our favorite Italian restaurant, Seerose, in Munich.
This dress transforms fashion into artwork. Braided petersham ribbon forms the yoke and the panels at the hem of this figure-hugging dress that gets its shape from perfectly placed darts.
A boring classic? Not with this version! This dress is styled to fit perfectly – and highlighted by a plunging V-neckline decorated with a playful flounce.
A look inspired by the fiery secretary chic styles of the 70s, the blouse is sewn in a sheer leopard print with a tying loop and gathered sleeve caps. In order to minimize the underside seams from showing, cut back the seam allowances and neatly finish them together!
Parisian chic with this relaxed fit coat sewn in a posh bouclé. The dropped shoulders and the deeply set sleeves are made to fit perfectly – cleverly avoiding the need for shoulder pads.
A striking coat sewn in an animal print with lapels and with tabs on the sleeves. It pulls together in front with a belt – so it can be worn relaxed and open, or snug against the body.
They have the proper look for business wear – yet they are incredibly relaxed and comfortable. The straight leg trousers include a comfortable elastic waistband.
A romantic dress that is also beautifully spicy when sewn in bordeaux and the viscose crêpe fabric lends an especially delicate cascade to the flounces at the neckline and the 7/8 sleeves.
Get ALL of these sewing patterns in the discounted pattern bundle here!