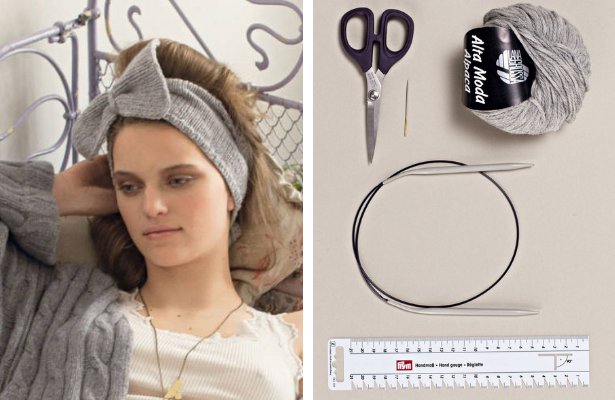 ShareThis
This accessory will keep you warm throughout the rest of the winter and It's quite chic to wear too! This knitted headband with box comes together quite easily with just a few stitches, read on to see how you can make yourself one this weekend…

+ Circular knitting needles
+ Prym hand and seam gauge
+ Yarn
+ Scissors
+ Hand sewing machine needle



Step 1: Knitting stitch in basic pattern: 28 stitches + 2 edge stitches + 26 rows = 10 × 10 cm. Compare measurements, adjust if necessary.
Step 2: Use the circular needle to knit the headband, bow and ribbon. Knit the box piece as big or as small as you want depending on your desired effect.



Step 1: Pin the bow in the middle of the headband. Put the ribbon around the bow and headband, pull the ends of the ribbon together. Sew everything up.
Step 2: Headband is finished!



Is also a great way to hide a bad hair day, and pairing with a matching cardigan is even better! Knit yourself a cardigan or find a similar color fabric to achieve the same look using these patterns:



top left: Plus Size Long Cardigan; top right: Wrap Coat; bottom left: Plus Size Knitted Cardigan; bottom right: Girl's Cardigan

Happy Knitting!