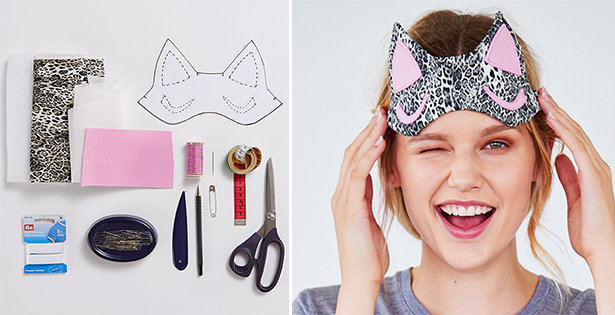 ShareThis
Hello Kitty! Well rested? If not, it is really time for a kitten sleeping mask that you can make yourself! Download the mask pattern PDF here for FREE before you get started and read on to see the tutorial…
Cats spend more than two-thirds of the day with snoozing away, so to get a good night's sleep you may just have to be like your kitty!
First download the free pattern here, print, gather your supplies and get started.
Materials:
- Pattern Template
- Scrap fabric (1/8 yd) cheetah print
-Fusible interfacing
-Felt (pink)
-Elastic (3/8" – 1/2" wide)
-Point turner
-Pins
-Thread
-Pen
-Safety pin
-Tape measure
-Scissors
-Hand sewing needle
Step 1- Fuse the adhesive to the back of the felt.
Step 2- Trace the ears and the eyes from the paper pattern and cut out of the felt.
Step 3- Cut the main mash shape out of the fabric and leave about 3/8" of seam allowance around the edges. You can either add to the paper pattern or to the fabric as you cut out. Cut out twice, one for the front and one for the back.
Step 4- Place ear and eye pieces to the main cheetah piece and check positioning with the pattern pattern stencil. Pin in place.
Step 5- Sew around the pieces about 1/8" away from the edges.
Step 6- Cut a rectangle 23 1/2″ × 1 1/2" from your cheetah fabric. Then pin in half widthwise
Step 7- Sew along the long edge at 3/8".
Step 8- Pin the safety pin to one short edge and pull tube to the right side.
Step 9- Un pin the safety pin from the fabric and pin to one end of the elastic (also cut to 14 1/2") and thread through the loop to gather in the fabric. Stitch the elastic to each end of the fabric tube to keep the gathers in place.
Step 10- Pin the band to the pattern markings on the back mask piece. Sew in place to hold.
Step 11- Place the front and back mask pieces right sides together and pin. With the elasticated band sandwiched in between the layers.
Step 12- Sew around the mask along the seam lines and leave a 1 1/2" opening at the top so you can turn the mask right side out.
Step 13- Make sure you backstitch on either side of the opening so it doesn't tear.
Step 14- Clip around the round edges of the mask as pictured.
Step 15- Turn mask right side out carefully.
Step 16- Clip the corners and use a point turner to poke out the points of the ears.
Step 17- Thread your hand sewing needle and sew the openings closed. Then give it a good press with your iron.
Step 18- Done! Have fun making these in different colors and felts.
This project makes a fabulous holiday DIY gift to give to the cat-lover in your life.
Happy DIYing!