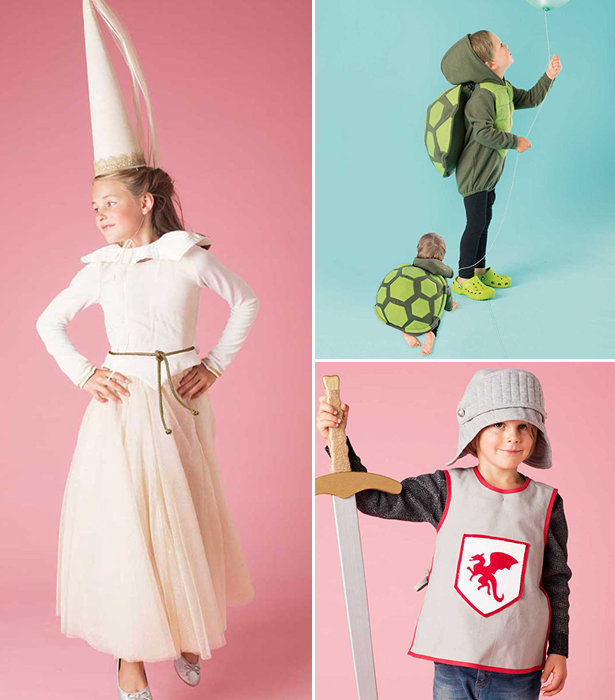 ShareThis
This adorable kid's costume collection is from the January 2016 issue of BurdaStyle and we've been holding onto it for the Halloween season! It features easy-to-make costumes that never go out of style.
Click on the pattern image to go to the pattern store page…
This silly kid's forest witch costume features a creative cloak that's made using torn strips of fabric as well as a witch's hat.
This sweet kid's ladybug costume is made using a black hooded jumpsuit and an attachable "shell" that is made using cotton, fleece and wool. Just decorate the outside with red fleece dots!
This kid's grasshopper costume features wings, extra long legs and large eyes similar to the actual bug. The jumpsuit is made entirely out of fleece, which is great for colder climates!
This turtle costume can be made for kids and babies! It's made using a hooded jumpsuit paired with like colored tights as well as a "shell" and a front placket.
This knight costume is ready in no time – with helmet and armor.
This skirt is easily made using torn strips of fabric, which is a great project for even kids. The hat gets volume by stuffing the hat brim and can be shaped using wire as desired.
Buzz, buzz, buzz! This adorable little bee costume is a one-piece jumpsuit with stripes sewn on and a stinger in the back, which is made out of fleece.
A costume fit for a princess! The pattern includes a full long skirt, long sleeve royal top, collar attachments and a renaissance style cone hat.
Happy Sewing!
Want more costume ideas? Check out the below past Halloween costume pattern collections:
From 2014 – Halloween costumes for the entire family!
From 2013 – Halloween party
From 2012 – DIY Halloween
From 2011 – DIY Halloween part 2
You still have plenty of time to sew your costume!