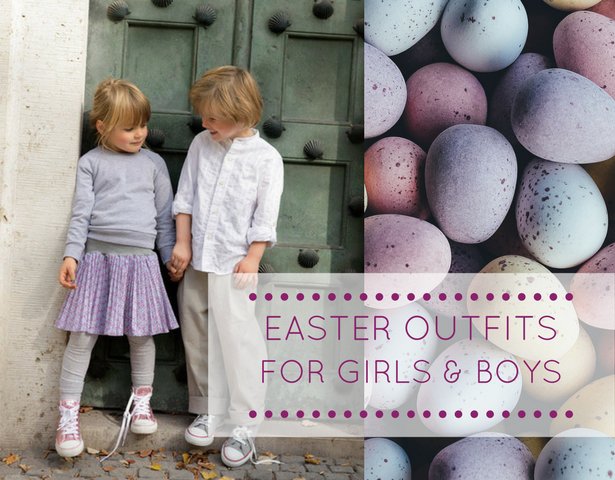 ShareThis
Just like adults, kids need Easter outfits! When mum is dressing up, the little ones shall get a cute spring outfit, too. Clothes should be festive for brunch, church or a traditional dinner but still be suitable to go on a big Easter Egg hunt outside in the garden. Here are eight outfits ideas for girls and boys…
Accessories and garments via Gap, H&M, Zara and Janie&Jack
Girl's Dress, Boy's Shirt, Boy's Pants

Around Easter we get the spring fever and dare to wear little dresses and linen trousers for the first time during the year. If it's still too cold outside for sandals and light fabric, you can add white tights and a warm knitted sweater to your girl's outfit or some warmer shoes to your boy's outfit.
Cute, yet comfy! Who says that a nice outfit for Easter can't be worn while playing outside. When the fabrics are soft and cosy, glittery accessories can add some sparkle!


Girl's Skirt, Boy's Blazer, Boy's Pants
"Cool" is the magic word for your kids and pale pink dresses are not the favorite outfit anymore? During that age casual accessories make it work: a stylish hat or skirt plus leggings instead of a dress…
Girl's Tee, Girl's Skirt, Girl's Cardigan, Boy's Trousers
Convince your kids to dress up on Easter by mixing hair hoops with leo leggings and bow ties with cool hats! Sparkly shoes and shoe laces in a different color do their duty, too!
Happy Sewing and Happy Easter Egg Hunting!