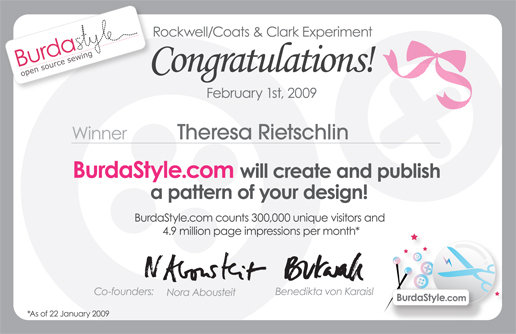 ShareThis
By participating in the "Project Runway"-type design challenge at Kent State University, one lucky winner has won the opportunity to have a creation of their choice made into a BurdaStyle pattern sponsored by Coats & Clark.
Meet Theresa Rietschlin, an Ohio native and Kent State University student. Most of Theresa's days are spent drawing and sewing when she is not working for her father's construction company. Like many of our own stories, Theresa owes her gratitude to her mother, someone who has not only taught her the ABC's of sewing, but who has encouraged her to cultivate her artistic vision.
How has sewing affected Theresa's life? "Sewing has been a way for me to express my creativity. Although the process to get the final garment is tedious, the final product is worth every second. To realize that one can create a garment from a piece of fabric is truly wonderful. And of course, without sewing I would not be going to school for fashion design".
We will be working with Theresa over the next few weeks to create a winning look from which the pattern will be offered to everyone later this year! Congratulations Theresa!