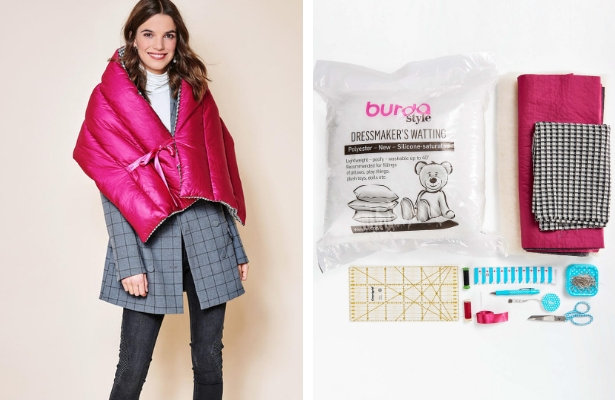 ShareThis
Granted, this trend is a bit of a fashion risk – but once you have dared, you do not want to miss out on the combination of warmth and style. Whether as a scarf or stole: This quilted scarf is just super adaptable, so simple outfits become true fashion statements.
All images: © Jan Schmiedel

+ Fiberfill 40 cm 150 cm
+ Nylon fabric 40 cm 150 cm
+ Cotton / wool fabric 40 cm 150 cm
+ Batting
+ Thread
+ Patchwork ruler
+ Hand sewing needle
+ Chalk
+ Pins
+ Scissors
+ Tape measure
+ Satin ribbon



Step 1: Mark two pieces of 40 × 150 cm on both fabrics and cut with 1 cm seam allowance.
Step 2: Pin cut piece of cotton fabric wrong side facing the batting. Cut the batting to the same dimensions as the cotton.



Step 3: Now pin the nylon fabric right sides together with the cotton and batting.
Step 4: Stitch all around the edges at 1 cm. Make an opening of approx. 35 cm on one of the narrow sides and don't sew over it.



Step 5: Carefully trim back all corners and turn the scarf to the right side.
Step 6: Iron seam allowance at the opening at 1 cm and secure with handstitching



Step 7: Measure out 13 cm on both sides of the long edges, mark with chalk and stitch the two tunnels. This creates 3 tunnels each 13 cm wide.
Step 8: Unpin the open side and stuff all tunnels with filling cotton. The firmer the tunnels are stuffed, the more rigid the scarf becomes.



Step 9: Finally close the openings by hand. If you want, you can sew a satin ribbon by hand as a closure.
FINISHED! Wear over or under your jacket to keep warm and stay in style.