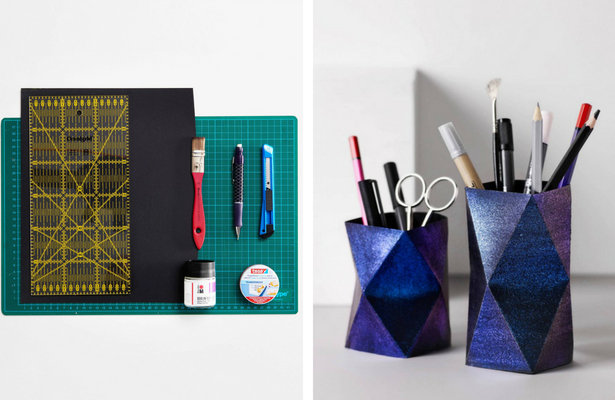 ShareThis
These origami pencil holders with iridescent effect bring both organization and elegance to your workspace. Whether you need a little more storage in your make-up area or sewing table, these pencil holders are perfect for anything you need to keep together. They are also super fun and east to make!

+ Berlin flip flop color (marabou)
+ Brush
+ Craft paper in black
+ Knife
+ Chalk
+ Patchwork ruler
+ Double-sided adhesive tape
+ Cutting mat



Step 1: Apply "flip-flop color" to the paper with a brush and let it dry well. The color effect works best on dark and curved objects.
Step 2: Measure dimensions for the pen holders (small: 10 × 26 cm, large: 20 × 26 cm).



Step 3: Cut out the rectangles using the ruler, cutting mat and knife.
Step 4: Divide the backs of the rectangles at the top and bottom into 6 cm wide strips and connect with straight lines to create diamond shapes. Repeat process. The last strip leaves 2 cm (adhesive flap).



Step 5: Carefully scrape all lines with the craft knife.
Step 6: Fold all the lines using the ruler.



Step 7: To get sharp edges, use the ruler to redraw all edges.
Step 8: Apply double-sided adhesive tape to the sides.



Step 9: Press together the adhesive sides.
Step 10: Hold together for a moment so that the glue dries.



FINISHED! Fill with pens and pencils or even sewing supplies so that your fabric pens, tracing wheels, and tweezers are in easy reach of your sewing machine.
Want to get even more organized? Check out this DIY below to create your own planner complete with case and bookmarks!



Happy DIYing!