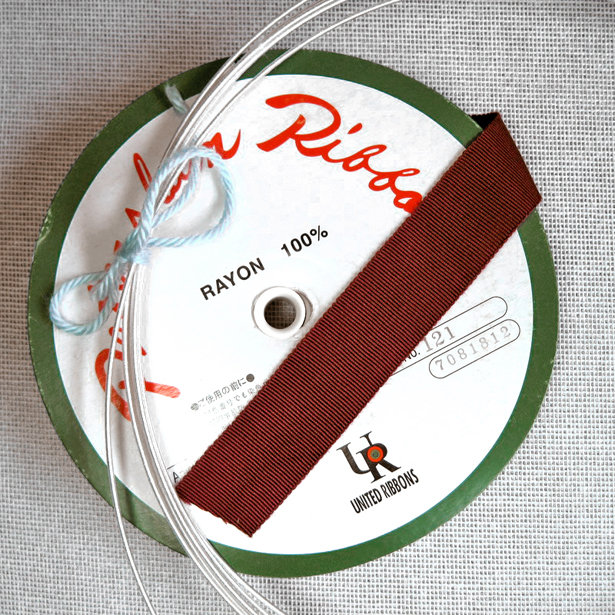 ShareThis
Last week we talked about a few different hat construction methods, this week we'll talk about some of the tools, trim, and notions used in millinery. For the next two articles we'll put some of these tools to use as I show you how to make a fabric-covered top hat!
Hat-making materials:
Buckram
Buckram looks like a stiffened cheesecloth (see image above, the ribbon is resting on buckram) and is used widely in millinery. It can be blocked (shaped) when wet and allowed to dry into its new shape. It can also be cut into shape, sewn to other pieces and wired for stability. We'll be using buckram as the base for the top hat in the next couple of articles.
Hat Bodies
Hat bodies are unblocked hat shapes ready for blocking, they look a bit like a floppy cone. They come either with or without a brim.
Hat bodies that do not have a brim are called hoods. Hat bodies with a brim are called capelines. You can find hat bodies made out of straw or wool, either dyed or un-dyed. Different types of straw-like materials and wool felt are also available by the yard.
Tools and Notions:
Hat block
Hat blocks are usually made out of wood. You can find hat blocks for many different hat styles including top hats, cloches, even fascinators. There are also brim blocks available. Depending on the style, the hat block may also be sized for different head sizes. Buckram and hat bodies are blocked (stretched) over the hat block to form the desired shape using either water or steam.
Millinery Wire
The most common type of millinery wire is a rayon-wrapped steel wire (see above) that can be bent into shapes as well as used as reinforcement when constructing a hat using sewn buckram. The most common size is 19 gauge. The top hat we'll be making uses lots of millinery wire.
Petersham
Petersham (see above) is a ribbon used extensively in millinery. It looks like grosgrain ribbon but unlike grosgrain ribbon, petersham can be steamed and pressed into shape. For example, in order to cover the raw edges of a hat brim you would first steam the petersham into a gentle curve so that it will easily fit the round brim. You also use petersham for trimming the crown (it covers the seam where the crown and the brim meet) and for making the inside hat band.
Feathers and Millinery Flowers
So many types of feathers and flowers are used, the possibilities are almost endless! Feathers can be dyed, cut, and shaped. Millinery flowers can either be made by hand or bought pre-made. Now and again you'll find great suppliers of vintage millinery flowers online—a great way to really make a unique hat.
Next week: Making a Top Hat, part 1