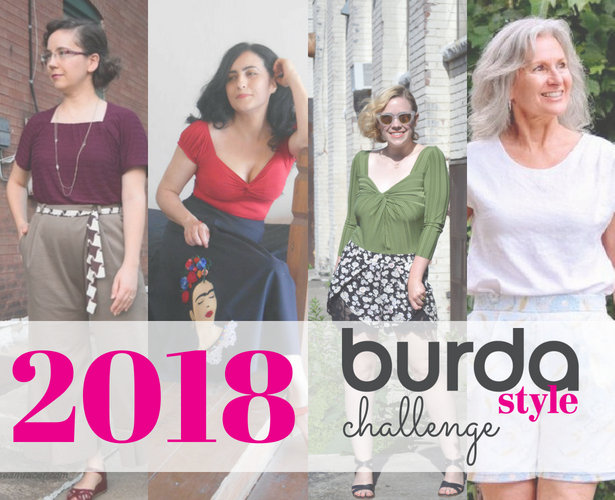 ShareThis
July here we come! June was a busy month for me sewing, and it looks like it was too for our BurdaStylers since there were so many amazing #burdachallenge2018 projects posted last month. From baby clothes to leggings and jumpsuits – this was one stylish month, and I even finished my workout outfit from May! Read on to see the Burda Challenge June entries as well as my July sewing plans…
Saturday Night Stitch's Hila whipped up the same pair of shorts I planned on sewing this month and I love how hers turned out below! She also made an unplanned pattern that you can see here using rainbow elastic.
Now here are some of our lovely Burda member's June project entries. It is one of my favorite times of the month where I get to go through and see what everyone has made – always makes me want to a pattern that I would have otherwise overlooked!

On the left we have power member Ellen Hatteland who sewed up this Printed Cascade Dress, and on the right SeamRacer with her Mitered Stripe Top & Asymmetric
Pants.



Member Elpida Kyriakou always makes such beautiful pieces, and this month there were plenty of them – including her embroidered linen jumpsuit, Frida skirt, and her favorite jumpsuit!.



Burda Challenger lisascarolina made both these bottoms! On the left her Classic Shorts (another maker of this pattern), and on the right are her Leggings!



On the left member Maria Hayek made these beautiful baby pieces for her niece, and on the right she even made herself Summer's Coolest Sweatshirt.
On instagram there were also some more lovely projects shared using the #burdachallenge2018 tag:



Projects: Workout Outfit; Denim Shorts; Mash Up Bodysuit

In my May Round Up / June Plans post I planned to make our new bodysuit pattern as my Mash Up, and then these popular choice shorts as my additional project. I LOVE how they both turned out! In addition I also photographed my new workout outfit I sewed up for Me Made May.



My planner project for June was these denim shorts and they turned out just as I had hoped! So glad I have a whole roll of that retro neon trim to play around with still – these shorts only used a little bit.



My July plans! Our July lookbook just launched over the weekend, and there are a ton of fabulous patterns in it, but I'm going with these two dress styles for my July makes. For my Mash Up I'll be sewing up the Multi-Wear Dress that can be tied up in several different ways. I had one of these dresses a while ago in black (and also made a swimsuit version) – but love the idea of a printed one.



Then for my additional project I planned out (download the free planner here ) to sew the Vintage A-Line Dress because I LOVED the knotted neckline and the shape of the dress. The magazine version also reminded me of the fabric I purchased last month, and it seemed like a perfect match.
Happy July everyone! Make sure to upload your July makes to the projects page and instagram using the #burdachallenge2018 so I can see and share them – can't wait to see what everyone sews up.