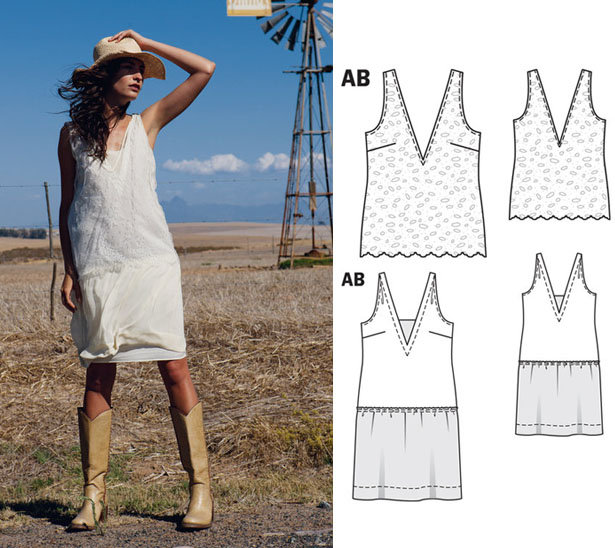 ShareThis
If you, like me, are counting down the days until the impending release of the new The Great Gatsby, you can probably guess what project I picked from this month's burda style magazine. Jazz Age-inspired Ralph Lauren, Gucci, Etro, and Marc Jacobs designs this spring have been filling the air with the spirit of excitement and liberation of the 1920s. No wonder that once I saw the flapper-style layered lace dress in the June issue of burda style magazine, I knew I had to make it!
It is not a complex dress, and I have already worked with lace for my first BurdaStyle Couture Challenge project. However, you will see that I used some new couture techniques here as well. Let's first refresh what this is all about.

The challenge: Choose a garment from the current issue of burda style magazine, and make a couture version of it. 
This month's pick is style 116B, a flapper-style dress with an attached chiffon skirt and a lace top.

The couture mentor: Susan Khalje, founder of the Couture Sewing School, author of Bridal Couture, and contributing editor to Threads magazine. For each project, Susan shares her tips related to fabric selection and couture engineering and construction.




I love how the layers of lace and chiffon are combined in this dress, adding dimension and movement to the garment. And despite their reputation, chiffon and lace are not as difficult to sew in this style – almost everything is cut and sewn on grain. There are a few things that can go wrong, but, in this case, careful planning and making samples will keep you out of trouble even with the most challenging fabrics. Here is my selection:

• Silk crepe-de-Chine for the shell
• Silk charmeuse for underlining
• Silk chiffon for the skirt
• Chantilly lace for the top




Let me explain some of the choices. I followed BurdaStyle's recommendation on using crepe-de-Chine as the shell fabric for one of the versions of the dress. However, I wanted it to have more body and a softer drape. Organza – the workhorse of underlinings – would be too stiff. Underlining with crepe-de-Chine would be better, but it would mostly add more weight. So, the next best choice was charmeuse. Susan confirmed my choice: "Charmeuse would be lovely as an underlining, and it can almost serve as a lining as well. Organza would be too stiff – unlike the charmeuse in drape and movement."

I had initially planned to make a crepe-de-Chine lining, but was not quite sure, as it seemed too much for this dress. "I think the crepe-de-Chine and charmeuse would be enough," Susan explained, "unless for some reason you want things to be heavier, in which case you could always use the matte side of a heavy charmeuse instead of crepe-de-Chine, but I think that would be too much. It's a light dress."

Trial garment
Like with any other project, I am making a trial garment for this dress as well. You may wonder why, as it is a loosely-fitted style where fit problems are less likely to occur. Well, I do it because I usually need some alterations for the narrow back and shoulders. I also anticipate small changes in the length of the V-cut neckline and want to make sure that proportions for the skirt and the lace top work for my height. A trial garment will allow me to avoid costly mistakes on the expensive lace and silk.




Layout and Cutting
There are several ways to cut chiffon, but here are some important rules and tricks I learned for this type of project:

• Use the finest silk pins to avoid marring your fabric.
• The fabric and the pattern pieces need to be pinned relatively close, with less pins on grain and more pins on curves or off-grain edges.
• Serrated scissors provide an excellent grip when cutting slippery fabrics.

Preparing for stitching
First of all, you may often notice that your fabric tends to get pulled into the bobbin area, or up through the foot opening (and this is especially true for chiffons, lace, and even batistes). Here are a few tips to help you avoid this:

• Switch to the straight stitch or single-hole throat plate. The fabric is supported as the stitch is formed. To avoid breaking the needle, make sure your needle is in the center position.
• For maximum control, use a straight stitch foot.
• Finally, before you start stitching, hold both thread ends firm with your hand to prevent the fabric from drawing into your machine throat plate.

It is absolutely essential to make a few samples before you start sewing with the actual fabric! You don't want to ruin your garment pieces before you even put them together. I didn't own these tools when I was working on my lace blouse for the April couture challenge and the lace swatch I used for the sample was almost eaten up by the machine. So, I made the French seams by hand – another option if you don't have these accessories. In fact, hand-sewn French seams have more give – and there are situations when you want to make use of it.

Of course, this is not the only way to work with delicate or sheer fabrics, and it is up to you to choose a method you are most comfortable with. In addition, I can recommend to you great tutorials by Paco Peralta, a Spanish designer who uses many couture techniques in his work. Whatever method you choose, make sure you make a few samples before you start working on the actual garment.




Single-stitch throat plate (on the right) is a great help when stitching delicate fabrics.

Preventing puckering
When sewing fine silks, the best advice is to avoid polyester thread because it can cause puckering. Instead, use fine mercerized cotton thread. 100% silk thread is good for hand sewing, but not for machine stitches because it is too strong and doesn't have the same give as cotton.

Another trick to avoid puckering in chiffon is taut sewing. This works mostly with on-grain seams, where fabric distortion is less likely to happen. Grasp the fabric with your fingers behind and in front of the presser foot and hold it taut as you sew, trying not to pull the fabric so that it doesn't interfere with the feed.

Finally, I recommend using microtex needles. Universal needles deflect the yarns, while microtex will cut through threads, resulting in a straighter stitch.




The lace top
While I will feature some construction details of the lace top in the final post, I wanted to share with you some thoughts on how to save fabric and money when purchasing lace for this dress.

1. Make the muslin (trial garment) for the entire dress and check for proportions and length of both the dress and the top. After the length of the top is determined, take the top pattern pieces to the fabric store.

2. If the lace you like, has scallops on both sides, check if you can lay out the pattern pieces along both edges instead of only along one edge. This will save quite a lot of fabric and money.

3. Finally, if you are using lace scallops for neckline and armhole finishing, you will need more fabric for scallops.

That's all for planning. In my next post in two weeks, I will show you the finished garment and cover the construction of the dress, which will include Susan's tips on finishing details for the Chantilly lace blouse, and the handling of chiffon skirt seams, hems, and the top edge. For more on working with slippery fabrics and sheers visit my blog. So, stay tuned and feel free to ask questions!

Marina von Koenig shares her couture learning experience on her blog Frabjous Couture (also available in German).