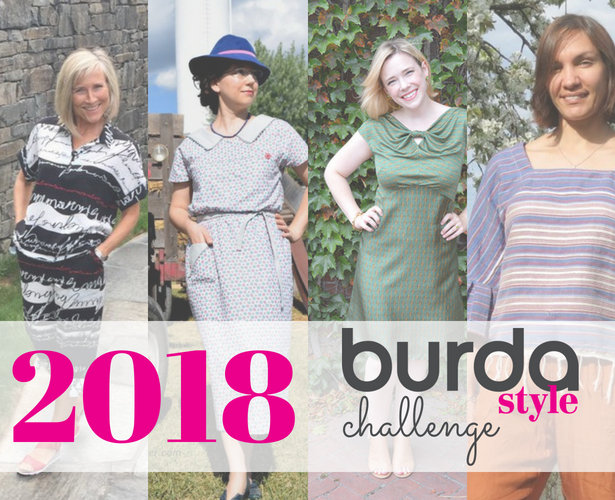 ShareThis
It's official, it's August! I love August with the summer heat continuing while cottaging, and the gearing up for fall sewing and September (which is my favorite season and month). July was very busy sewing month for me as I was in Colorado filming a new sew-along and course that I had to prep for, and it looks like our community were equally as busy sewing up many new makes! Read on to see all the projects sewn in July as well as my August sewing plans from the 08/2018 issue.
I'm still swooning over this dress that Hila over at Saturday Night Stitch whipped up, and she also posted about these adorable girl's dresses on her instagram that she made from this BurdaStyle pattern.

Our members made some fabulous garments in July including dresses, hoodies, corsets, and more!



On the left we have Ellen's matching Boxy Blouse and Capris that she made from this gorgeous viscose fabric from St Petersburg.
SeamRacer's Dust Bowl Dress on the right is perfection for a day trip to the country side.



Member Maria Hayek made these two lovely tops, on the left her Favorite Summer Blouse and then on the left her Tunisia Blouse.



On the left, member Anne-Berit made this gorgeous Jersey Top with Ties, and on the right we have steelyseamstress's Hooded Jacket.



Elpida Kyriakou always makes such beautiful pieces, and this Blue Ladies ensemble is just perfection! She also made this Corset Peplum Top!



Power member lisascarolina is in the sewing summer spirit and made both these projects – her White Twill Shorts and Blue Top.


On instagram there were also some more lovely projects shared using the #burdachallenge2018 tag:

Projects: Vintage Green Printed Silk Dress; Multi-Wear Dress

I'm happy to say I sticked to my plan from the June Round Up post and made my Mash Up dress as well as the Vintage A-Line Dress. I love them both so much and excited to have two new dresses for my summer wardrobe!



In my Burda Challenge Planner I swatched this gorgeous printed silk I picked up and wanted to use it for our Vintage A-Line Dress pattern. I cut and sewed my planned size 38 and can't wait to wear it this weekend to an out of town resort wedding I'm attending. It may get a little chilly at night, so I need to think of something complimentary that I can wear over top – do I go shall, jacket, or cardigan? Help!



For my August sewing plans I want to make this super quick sew skirt, our Maxi Skirt with Slit. I love how it is sewn in jersey and can take on a bold print, which reminds me I need to go fabric shopping for this! Then for my August "Mash Up" I wanted to start some fall sewing, so I'm going to make this Waistcoat Bodice Dress in a heavy fabric. Really excited for both of these projects.
What are you planning to sew in August? Our 08/2018 issue pattern are all live now and can be seen here in the digital preview lookbook.
Happy Sewing!