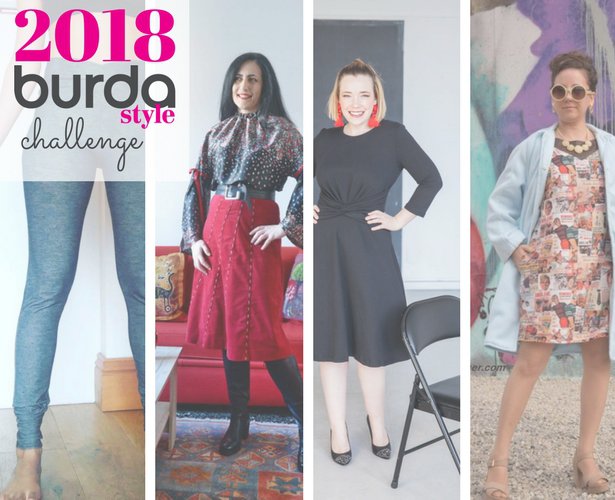 ShareThis
The first month of 2018 has come and gone, and we're wrapping up what was sewn for the BurdaStyle Challenge in the month of January, as well as what I have planned for February! This challenge really has made me sew more and I love seeing everyone post about what they are making on Instagram as well as all their Burda magazine stashes as Saturday Night Stitch also highlights in her January round up post here. Read on to see some of our member project highlights as well as what I sewed…

Hila made these Footed Leggings for her January #BurdaChallenge2018, just one of the many patterns she planned on making for the month. I as well tackled these leggings and made two versions for my January Mash Up.
Our members here on BurdaStyle.com shared some of their makes in the project section!



Member Elpida Kyriakou shared her red corduroy skirt and high neck blouse and was excited to kick off her Burda Challenge 2018. See more projects pics here!



SeamRacer posted about her 60's style cocoon coat and advertising print dress. I just love how they pair together, great start to the challenge SeamRacer! See more project pics here



Now for what I made for my January Burda Challenge… After I was completed with my Mash Up, I was still thinking about our Knotted Dress pattern from the 01/2018 issue, and was even more inspired by others making this style on Instagram. So I decided to whip up this dress myself, and it has now become one of my favorite winter dresses. I have already worn it to an art gallery show and it comfortable – yet stylish, and I perfectly blended into the fashionable crowd.



I used a stretch cotton knit that had some weight to it, so not like a jersey. I was a little hesitant about the length of the dress, as it is more of a midi hemline, and when I was completed with the dress I was about 90% sure I would shorten it. But after dancing around in this dress in the mirror I decided to keep the length as is because it is a different length than most of the dresses in my closet.



Just had to get a close up of the twist! It was actually a lot easier to construct than I thought, my tip is just to really pay attention to the small numbered corners on the pattern pieces to know exactly where everything is supposed to go and get sewn to. See more images of my dress here.



The other garment I made for my Burda Challenge in January was our Cut Out Back Shirt. My challenge was to every month at least make 1 pattern in addition to my Mash Up. It just worked out so great that this extra pattern perfectly paired with my Mash Up footed leggings.
Read Saturday Night Stitch's January Round Up here for more inspiration!
And now onto some sewing plans for February…



Hila plans to make a bunch of patterns this month, and I'm so excited to see them. I mean, see has already completed the twist top – way to go Hila!



These are my sewing plans for the month of February. The middle dress, from the 02/2018 issue is going to be my "Mash Up" pattern and the jacket on the left is my other make from the current issue. Lastly I'm going to sew up our Jersey Tank from the 02/2013 issue for a special tank article in Sew News magazine.



I used our planner to help me think out the jacket project, and I'm going to include embroidery on it since February is National Embroidery Month! Really excited to get sewing these patterns.
Please share your challenge progress by using the #BurdaChallenge2018 on Instagram and posting your projects here using Burda Challenge in the title so we can find them and feature you.
What are you planning on making in February?
Happy Sewing!