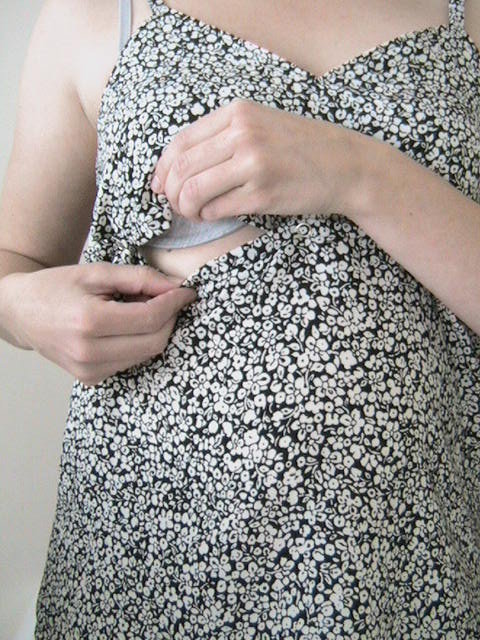 ShareThis
This week's challenge of altering the Jane pattern was relatively easy except for the fact that I have serious baby brain at the moment! I lowered the waistband on the front of the shorts so they would fit nicely under my bump. This worked well except I think my butt is growing along with my bump, argh! Next time I'll need to make a few sizes bigger for room for growth I think. The top was easy to make, I split the front piece in two under the bust where the elastic should go and added an inch to each piece for folding. I folded each piece under and stitched then once the top was sewn together with the pieces overlapping I added poppers to fasten. Unfortunately I forgot to add extra fabric around the front for my expanding bump, I knew before cutting I needed to do this but my baby brain took over for a little while. I also overlapped the front pieces the wrong way so I ended up with the bottom overlapping the top. Other than these baby brain moments I'm really happy with how these pajamas turned out, I know exactly what to do and what not to next time and there WILL be a next time. These pajamas are going to be perfect for the hot Melbourne summer so I plan on making at least a few more and I'll look fabulous on the maternity ward too! I need a dressing gown and slippers to match and of course Carolina for my toiletries and maybe I should trim a towel too. I used some fabric I found in the thrift store last week to make this pair which drapes nicely, but I'm considering using a lightweight cotton for future Jane pajamas.
Now it's onto Idit. Hopefully my regular brain will take over this week and I won't forget anything. Like I said last week I plan to alter it by adding extra fabric to the front making it longer and wider to accommodate my bump. I'll also have the front wrap over more maybe by adding more fabric and having it meet at the bust. I'm also considering adding a hood. Do you have any ideas for how to make these alterations?
After Idit I'm going to try a few alterations of Linda. I think this skirt has a lot of potential as a maternity skirt and could be altered in a number of ways such as a stretchy knit waistband or an under the bump waistband. Do you have any other ideas? It will look cute in summery fabrics and will keep me cool but covered from the sun. I have a couple of cute vintage tablecloths that would look great used with this pattern.
The Susan sew along finishes today so if you're taking part make sure you upload a picture of your finished garment. I, of course, am totally behind and have not yet finished my version. I'll be uploading it in the next day or so. We're also taking suggestions for the next sew along which I will be announcing tomorrow so if you would like to take part get yourself over there now and let me know what you would like to make, I'll choose the most popular.