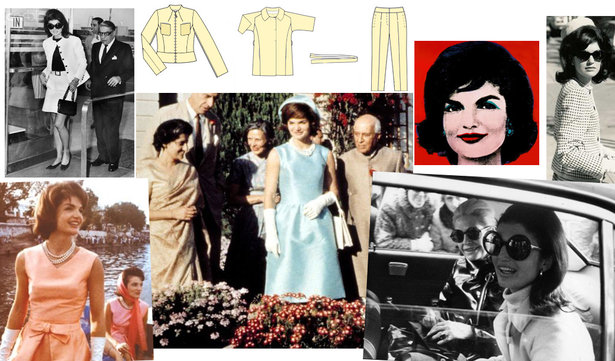 ShareThis
Jackie-O has been influencing the world of fashion for years. Her iconic style will, for many years to come, be adored by people all over the world, and is regularly referenced and reinterpreted in fashion.
This month is National Sewing Month (FYI) and I thought that we needed an inspiration, besides New York fashion week, which we'll get to later, to celebrate home sewn fashion— the answer? Jackie-O. The ever classic, chic, understated, elegant creature, wife of the 35th President of the United States, John F. Kennedy, who has made fashion history and will continue to inspire generations to come. She even had her face set in pop art history forever, courtesy of Andy Warhol. Here are three Jackie-O influenced patterns— so anyone who loves the 60s, the Kennedy's, Jackie-O's inconic style, oversized shades and cropped looks must try these patterns out.

3/4 length sleeve coat with belt. Smart, chic and swinging like the 60s. This coat would POP in a bright solid like orange, baby blue or yellow.

Cropped trousers. Nothing says mod-chic more than cropped trousers— and these have lovely details— including zippers at the ankle. Make them all white like Jackie-O's.

Cropped jacket. Try making this cropped jacket in a white wool with black buttons for a true Jackie-O look. And don't forget your oversized sunglasses!

Check out my slideshow, and see Jackie-O's amazing wedding dress, plus more of her style interpreted by BurdaStyle sewers around the world.