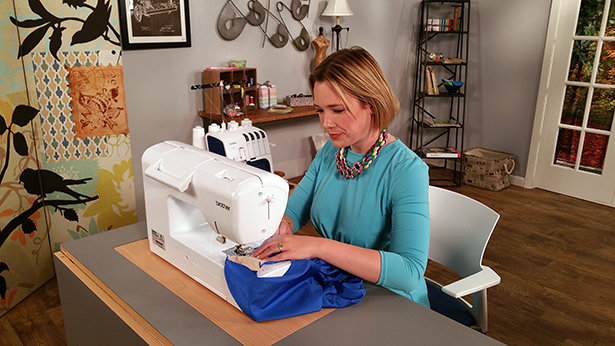 ShareThis
In the summer I had the pleasure of traveling to KS Productions in Cleveland, OH to film some segments for It's Sew Easy! My first segment is airing now in their 1600 series and is all about constructing a bathing suit bottom. Read on to see which BurdaStyle pattern I used and to see the video of my sewing it together…
As Seen on It's Sew Easy Public Television show

Also special thanks to all their partners including Brother, Shannon Fabrics, Prym Consumer USA, QT Fabrics, Kai Scissors, and especially Coats and Clark for providing me with their amazing Eloflex Thread I used to make these.



It's always fun being behind the camera, and the entire team there was so lovely to work with. I also had a chance to meet other sewists, and Cheryl Sleboda even gave me a ride to the airport when my shuttle failed to show! On the way we talked about everything sewing from Cosplay to funny filming stories.



To see all my written and pictured steps visit the show notes page here!



The pattern that I used is our Bikini one from the 07/2018 issue of BurdaStyle magazine. Burda rarely released swim patterns, but when they do it's a goodie! I love this pattern so much with the gathers and knot like features as it is very figure flattering. Best of all the bottoms are the perfect height – not too high, and not too low.



Luckily I made this suit in the summer so I was able to wear it a couple of times. But I rarely go out in my suit without some sort of cover-up, and here I'm wearing our Fringe Kimono pattern.



To see how the kimono is drafted and sewed together click here as a couple of years ago I made this printed chiffon kimono and filmed the process.
Thanks again to It's Sew Easy TV for having me, and until next time…
Happy Sewing!