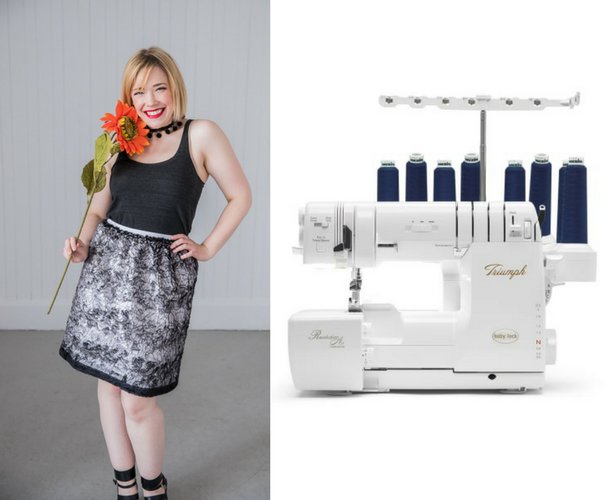 ShareThis
April is National Serger Month! A couple of years ago I sewed up some leather leggings for National Serger Month on the serger and this year I was excited to make (and wear) this all sewn on the serger fur skirt!
When I started out sewing, the day I got my first serger was a total game changer. I loved the speed, neatness, and ability to sew stretch fabrics – and a serger is probably my #1 machine of choice when sewing. This year I have been really into textured fabrics and how you can use simplified silhouettes to make a stand out garment – and that's how the idea for this all serger skirt came into my mind.

This skirt is sewn ALL on the serger – no regular sewing machine required. It also needs to pattern and hem because I utilized the selvedge edge of my fur just as I did for my March Mash Up.



To see the full tutorial of this skirt click here to check out the project page. All you need to make this skirt is a little fun fabric, some elastic and a measuring tape.



For the fabric I used Shannon Fabric's Minky Luxe Cuddle Glam in Platinum (buy here). This has really been my go-to fabric recently and not only is the fabric super glamorous, but it is also stretchy making it comfortable to wear and perfect for a serger project.



Thread is also important when thinking about a serging project. Check out this post to see 10 great threads for sergers. From shimmer to stretch, each thread type serves a particular purpose based on its content, strength, decorative qualities and other properties.



This skirt is perfect for this time a year, as it is the time right in between Winter and Spring. It is still acceptable to wear fur, but you can pair it with more summery elements.



To make the skirt extra easy to make – opt for an elastic with some decorative element or texture. I went with a contrasting white elastic to compliment the silver notes in the fabric with a ribbing effect.



Speaking more about sergers, if you are just starting out on one or have been a serging pro for years, definitely check out your nearest Baby Lock retailer as they might be hosting a Sip N Serge event! Bring your own beverage of choice and you'll be provided with everything else you need including a serger, fabric & notions, and even a pattern to sew up your own apron.
Happy National Serger Month! What will you be serging in April?