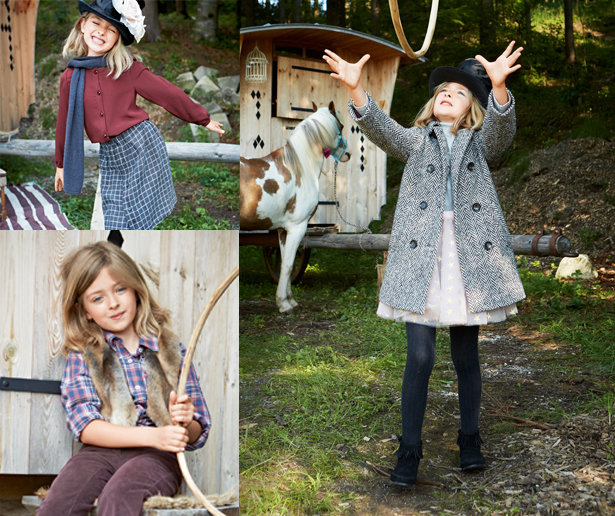 ShareThis
Have fun in the magical forest with this fun and cute collection of girl's sewing patterns. Stylish coats, dresses, and pants are made from natural fabrics that make your little one want to play outside in the magical forest. These lovely girl's patterns are from the November 2013 issue of Burda Style magazine.
Pair these textured Herringbone Shorts with tights and a sweater for a stylish winter look. Herringbone or tweed gives this design a great fall look. Fitted with a zip fly, pockets, and rolled cuffs.
Sweet details like a contrast Peter Pan collar and full A-line skirt are so fun for little girls to wear. You'll want to make This Dress in summer and winter fabrics so she can have a dress for all seasons. The empire waist and three quarter length sleeves are comfy and cute!
This whimsical little Fur Vest is lined for durability and is a fun layer to throw over jeans or a party dress. It especially looks great paired with Corduroy Pants like above. These pants fit like jeans with front and back pockets, a zip fly, and elasticated back. This will be her favorite fall outfit!
A simple round neckline and buttons down the front make this polished Ladylike Blouse for little girls. It is paired perfectly here with a semi-matching button-up Flannel Skirt made from a man's shirt!
Little ladies will look so darling keeping warm in this pretty Houndstooth Coat. This classic six button style has an adorable round collar and slash pockets.
Any or all of these pieces will make your little girl's fall wardrobe come to life. It's like magic!
Happy Sewing!