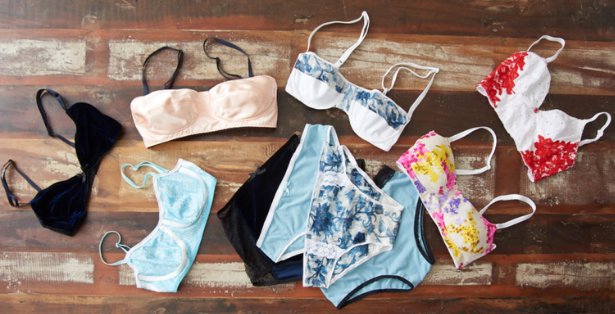 ShareThis
It was brought to my attention that it is BRAugust! I love a good play on words, and themed months – so I thought I would do a bra round up including our top selling bra patterns, most popular bra DIYs and feature some of our favorite member made bra projects.
Let's start with top top selling bra patterns we have here on BurdaStyle.com starting with our bra pattern which also includes knickers!

This bustier bra has is delicate and features lovely color contrasting. We love the crossover on the front as well. The French style knickers are high waisted with little bows and binding detail.



I've actually sewn this sports bra pattern before, but omitted the zipper. You can see it here!
Sporty details like the zipper that allows an adjustable neckline for extra comfort, as well as an elastic band at the hem to keep everything in place in in this crop top style sports bra.



I love this pattern for its simplicity and how it can be made several different ways – it's definitely on my bras to make list.
This bra top features a slight v-neck and spaghetti straps. Make it into a swimsuit using swimsuit fabric or a bra using mesh or lace!



If you need a little extra support – both for your ta tas and in the form of video help to sew one for yourself, then you need to check out our Sew your own Lingerie Collection course.
The thought of sewing lingerie can be intimidating. Tricky fabrics, tiny pieces, parts and seam allowances, the thought of it can send the best seamstresses running for easier projects. Don't let those silky fabrics fool you. Sewing lingerie is not only rewarding but with the right instructor it's down right fun! No body type has a lock on ill-fitting bras. A poorly fitting bra is just has uncomfortable not matter your size; big or small. But, we all know that once we put on a well fitting pair of undies or bras, life is good again.



You may be more into the bra over the top look – which is totally on trend right now. This DIY will show you the way!



If you have a bra that you really like and want to turn it into a top, or a corset more specifically then this DIY is perfect for you.



top left: Pink Marlborough Bra; top right: Sierra Bra; bottom left: Cool Running Track Singlet; bottom right: Baby Blue Gingham Set

Want to give these lovely and talented BurdaStyle.com members some praise for sewing up these amazing bra projects! Now I'm super inspired to go make a matching little set for my honeymoon.