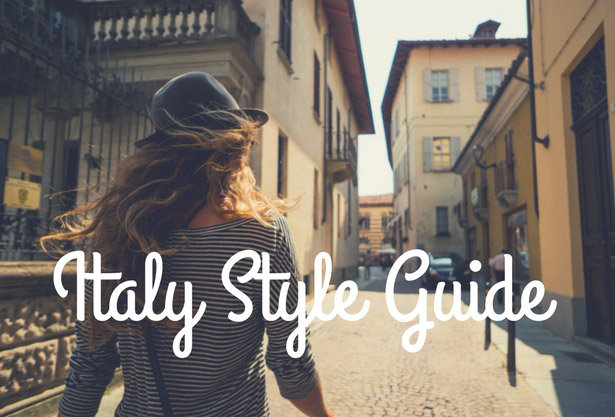 ShareThis
Some spots are still open or our BurdaStyle Fashion Tour of Italy in September – and if you want to come and avoid being on the waiting list, register before May 15th 2018 to secure your spot! Myself and Ellen March from Sew News magazine (see her post about it here) will be going on the tour this year, and I know I have to start planning what to make and pack. I know it seems far away, but it's never to early to start planning. Read on to see some pattern suggestions and what to wear for the trip, along with some feedback from last year's tour…

This tour is filled with all the sight seeing you want to do in Italy – but not to much. Last year when I went on the first tour, I had never been to Italy before so I was so happy to hit up all the places to see around Italy including Pisa, Duomo di Milano, the little towns of Cinque Terre, and on the Rome extension; St. Peter's Basilica, Colosseum, Trevi Fountain, and more! The husbands that came along the trip were happy to see all the places Tom Hanks filmed Angels & Demons.
Anyways, what to wear! From my experience – layer. We will be going in early fall which will be a bit warmer than when I was there during November last year, but could still call for a bit of rain. Our Convertible Nylon Jacket would be a fabulous garment to make and pack, since the sleeves snap off and will protect you from potential rain while walking about. Best of all, the style in on point. Then I would pair with a fashionable pair of comfy pants like these zippered ones and then top it off with a classic T-shirt with a twist like our Pleated V Tee. The footwear of course for walking around should be comfortable, so make sure to pack a little pair of comfy sneakers. I love this outfit, because it is fashionable functional, and doesn't SCREAM tourist.



Now what would be a trip without some shopping! My favorite places to go shopping on the tour was in Florence (hello leather!) and around the little town our main hotel was in. Make and pack a cute dress from your summer wardrobe that you want to squeeze more wear out of and layer it under a trench. I love this flowery Shift Dress and our latest Trench Coat release from the 04/2018 issue – especially sewn in a pastel blue. Lastly pair with you most comfortable pair of flats that you can easily slip on and off because you will want to try on and buy every shoe you see in Italy.



After shopping, or in the morning before all the bustle of the day starts the best way to enjoy Italy (and my favorite way) is just to sit back and relax with a gelato or espresso taking the scenery and people watching in. There are cafés everywhere and on the tour don't worry you'll have plenty of time to enjoy them. I love this Ruffle Pullover for a sweatshirt alternative and for a bit of fun and flash pack an easy skirt in a bold trip to blend in with the fashionable Italians – this skirt is a fabulous choice with all the pockets.



Now for the dining, and there is A LOT of this on the tour. Some nights we spend together, like when we learn how to make fresh pasta and have a feast with wine at a family fun winery in Tuscany, and the others you have the night to yourself to explore and dine wherever your heart desires. For these occasions I like a fancy shirt dress because it isn't too fancy and trying too hard, and is forgiving after you gobble down an entire pizza (from personal experience). For this dress I love our Retro Style Shirt Dress! For the shoes, I woudln't pack any super high stilettos because some of the old streets can be hard to walk on – but a nice slip on low heel is perfect.



Then there comes the travel – I mean, we have to get there somehow! Wear comfortable pieces that you can also integrate into your travel wardrobe, I love our Sporty Trousers paired with this Layered Long Sleeve Top and of course a pair of slip on sneakers that you can easily take on and off during airport protocols and sleeping on the airplane. Also when we all get off the plane the morning after the fight in Milan, you never know here we may go, so your style needs to be ready!
You also never know who will be on your flight, so style is always something to keep in mind. Last year Joe Kerry (the older sister's boyfriend on Stranger Things) was on our flight to Milan!!!!



All of the patterns I mentioned above can be mixed and matched for everything in between. Building a travel wardrobe you always need to think at least two other options how to wear a piece, and of course don't overpack since there will be several things you'll want to pick up in Italy. I can think of at least 3 women on the trip who purchase an additional piece of luggage to pack all their goodies in to bring home.



If this post got you excited then you definitely need to head over to Craftours to reserve your spot! Now I'm going to leave you with some quotes from our last year's tour:
"Favorite: Pasta-making lesson & the dinner afterward – so much laughter & fun! Also, embroidery studio & silk weaving – so much talent out there!"
- Joan
"I have best memories about all the experiences and seeing real artists at work! My favorite was cooking class, and this is the photo:"
- Anna
"I had so many "favorite moments". Here are a few of mine. I loved our hotel, The Grand Hotel & La Pace Spa. Loved sight seeing and shopping in Cinque Terre with my friend. I enjoyed seeing the artisans in action. Enjoyed visiting "Antico Setifico Fiorentino", the oldest silk factory in Italy! Also loved Agnes our Tour Director!"
- Bonny
If you want to see recaps of my days on the tour, you can see them here and if you have ever though about going to Italy before, and you are passionate about fashion and crafting, this trip is truly for you. Also if you don't have anyone one to go with, after the tour you'll walk away with memories and a handful of new friends from all over the country.