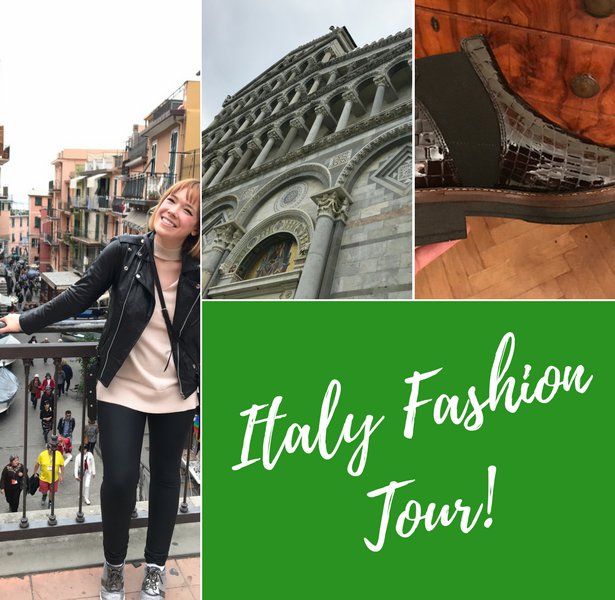 ShareThis
We just completed day 5 and 6 of the BurdaStyle Fashion tour of Italy with Craftours! These days were all about site seeing, eating, and shopping. My favorite things to do! We went to Pisa, the area of little towns Cinque Terra, and a cooking class in Tuscany.

Here was the itinerary for Friday!



First we boarded the bus and we were off to Pisa! We didn't have an official tour of this area so we were all free to wander and get what each one of us wanted out of Pisa. Some climbed to the top of the leaning tower, others toured inside the ancient churches, and some just went shopping to explore the little town.



There were people everywhere getting these types of pictures touching or holding up the leaning tower. I clearly FAILED at this haha. But what didn't fail was the coat that I brought and wore today, It was my September Mash Up and all the ladies on the tour now want to make it.



I decided to tour the beautiful ancient monuments in Pisa, and it was absolutely breath taking. I slowly wondered by myself to take in all the history and beautiful of the ancient buildings. I toured the Campo Santo which was a cemetery, the Cattedrale di Pisa, as well as the Pisa Baptistery.



My favorite thing were all these skulls on the floor. For some reason they looked so modern to me and stood out amongst all the ancient surroundings. They were in both the Baptistery and Campo Santo, and I think I was drawn to them because I always gravitate towards skull prints, I mean I was wearing a skull scarf!



Since I didn't get a chance to go inside the leaning tower, I just had to snap another picture of me in front of it!



This is the little "downtown" of Pisa where there is some shopping and nice cafes and restaurants. I wondered a little bit inside the town and then spotted some ladies on the tour having bellinis and I sat down and joined them until it was time to board back the bus.



After everyone got what they wanted out of Pisa, we went back to the hotel in the afternoon and had a couple of hours free before dinner. I went to my room to relax and just had to snap a picture of the view outside my window. It is so lovely here!



I got ready for dinner and headed down the hotel bar to have a cocktail before we headed to our cooking class and dinner. I feel so classy sitting as this bar, and everyone loved the BurdaStyle dress I was wearing!



Before we ate we were shown by "mama" how to make various Italian dishes like bolognese sauce, bruschetta, and pasta!



We also were given some wine that they made there at the winery while we made our homemade pasta. Here I am with Christina who came with her mother on the trip who heard about the tour in BurdaStyle magazine.



Did you know that homemade pasta is only eggs and flour? We all made the dough and then created different pasta shapes like ravioli and tortellini.



Then we ate! And we ate a lot, it was a delicious 5 course meal with wine pairings. The entire tour had such a fun time and we were all happy and full on the bus ride back to the hotel. The dress I'm wearing is our Submarine Dress.



When we got back to the hotel there was a fashion show for a local designer! It was such a lovely presentation to return to and we all stayed to watch the show.



Andrea from Sew-To-Fit had her cameras and filmed the show! Christina and I were getting a kick out of the models thinking she was the professional photographer. Then we all headed to bed because we had an early start the next day.



Today we kicked off the day by boarding the bus and heading to wine country and the little towns of Cinque Terra.



The scenery was beautiful!



This was my #Outfit of the Day! Leggings are always my go-to travelling pieces and these are our Carol leggings that I sewed in stretch faux leather. This picture was taken in the little town of Manarola. So many cute cafes and scenery of classic Italian living.



After a bit of shopping and taking in the culture we stopped for a quick lunch by the water. I had a classic Italian caprese salad and it was delicious.



We wandered around a little bit more and I snapped some pics of the scenery. I just love these houses and the colors they are painted.



The last little town we stopped in was Monterosso which was a lovely little quaint town and I purchases some olive oil and balsamic vinegars. These little towns were all by the water and beautiful! We were also blessed with amazing weather for this day. After this town we boarded the train to the bus and headed back to the hotel where we had the even to our own… so we went shopping! I didn't want to leave Italy without finding a pair of leahter shoes.



The shopping is quite nice near our hotel so after dinner some shops were still open and I picked up these leather shoes for a great deal! They will be perfect for Fall and even into Winter.



To relax before bed I utilized the AMAZING Italian bath tub in my hotel room. It had lights in it! Was the perfect end to a cute day.


Day 5 & 6 was mostly about seeing the sites of the Tuscany region and taking in the culture, we didn't have any fashion factory tours planned but we did enjoy getting a better taste of the Italian way of living, and that 5 course meal… I'll be thinking about that for a long time and I'm going to try making my own pasta at home.

Happy Sewing!
Meg